Carlisle Green Rooms 2022 Season Awaits You

Carlisle Green Rooms 2022 Season Awaits You
Carlisle Green Room are pleased to announce the 2022 Season of plays at the West Walls Theatre, Carlisle.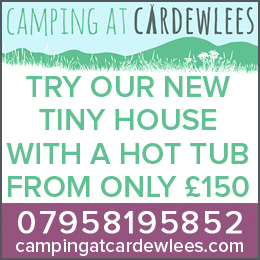 TWO – By Jim Cartwright.  Directed by David Wood
January 31st – February 5th 2022
Two is hilarious, yet heart-breaking, and presents a slice of working class life in a Northern local pub in the 1980s.  With a constantly quarrelling landlord and landlady and the dozen regulars pulling up a stool, all life is present in this pub.
---
SPIDER' S WEB – By Agatha Christie.  Directed by John Metcalfe
March 21st – 26th 2022
Clarissa, wife of a diplomat, is adept at spinning tales of adventure but when a murder takes place in her drawing room she finds live drama much harder to cope with.  Desperate to dispose of the body before her husband arrives with an important  guest, she enlists the help of her guests.  Hilarity ensues.
---
ONE FOR THE ROAD – By Willy Russell.  Directed by Jason Munn
May 16th – 21st 2022
This wickedly observant comedy by the author of Educating Rita finds Dennis on the eve of his "special" birthday, making a last ditch attempt to break away from the confines of his middle class, housing estate existence.  Comedic circumstances abound, especially with the arrival of neighbours Roger and Jane.
---
STRAIGHT AND NARROW – By Jimmie Chinn.  Directed by David Wood
July 4th – 9th 2022
The central characters are Bob and Jeff.  The cosy domesticity of these lovers is threatened by Jeff's crisis.  Jeff is considering leaving Bob ……… for a woman, so that he can become a father.  Meanwhile, Bob contends with meddling family members who are ignorant of his living situation.  A comedy which is both funny and touching.
---
A WOMAN OF NO IMPORTANCE – By Alan Bennett.  Directed by Jason Munn
August 22nd – 27th 2022
At work Peggy has carved herself a comfortable niche.  Once in hospital, she loses no time in establishing herself as Queen Bee, taking on several responsibilities.  Persistently  cheerful, blind to the feelings of others and at heart, terribly lonely.
---
THE ODD COUPLE – By Neil Simon.  Directed by Stewart Grant
October 10th – 15th 2022
When fussy Felix becomes suicidal over his impending divorce, he accepts an offer to move in with his best friend, messy Oscar.  Felix drives Oscar crazy with his obsession over his soon-to-be ex.  Oscar arranges a double date with two wacky neighbours but the plan backfires.  A classic comedy.
All performances start at 7.30 pm
Bar opens 6.30 pm
Tickets can be purchased by visiting
www.carlislegreenroom.uk
Or  from Carlisle Tourist Information Office.  Tel: 01228 598596
Follow us on Facebook/Twitter/Instagram
Share It: