Significant milestone reached in construction of Whitehaven's new coastal activities centre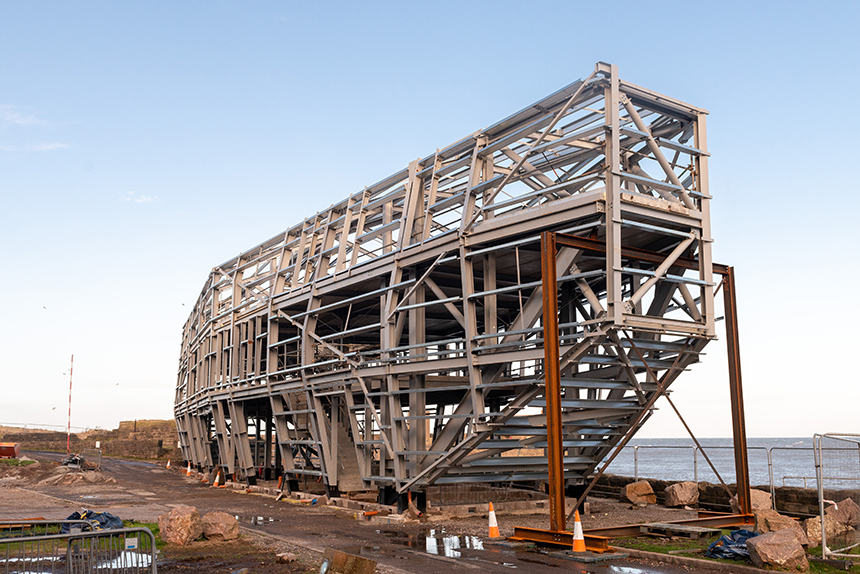 Significant milestone reached in construction of Whitehaven's new coastal activities centre
A significant milestone has been passed in the construction of a new coastal activities centre in Whitehaven, which is set to boost the economy, attract visitors and provide a valuable resource for local people.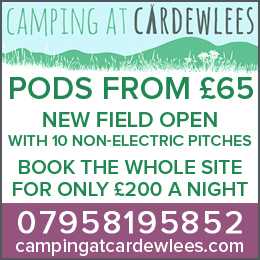 Enabling works began on construction of The Edge – Cumbria's Coastal Activities Centre, in January.
The three-storey building, which has been designed to look like the sandstone pebbles washed up onto the harbourside during high seas, is being erected on land next to the Wellington Inn car park, in Whitehaven Harbour.
This week the finishing touches were added to the steel frame for the building, while concrete slabs have also been laid which will form the first and second floors.
Work will now begin to weatherproof the structure and add zinc cladding, which will give The Edge a distinctive copper-coloured finish.
It is hoped the centre will open next summer.
The project is being overseen by Whitehaven Harbour Commissioners. Once complete, it will contain changing facilities, a cafe, public toilets, a meeting room and a gallery for hosting a variety of activities and events. The top two floors will contain en-suite overnight accommodation.
The Edge will enable visitors and locals to explore the Cumbrian coastline by taking part in watersports, as well as acting as a centre for hosting a range of cultural activities.
The accommodation is intended to provide a place for people to stay while they explore the area, including walkers and those beginning the popular Coast to Coast bike route.
It is anticipated 15 jobs will be created both directly and indirectly by The Edge, while it is estimated visitor numbers to Whitehaven could increase by up to 10,000 per year with an associated spend of over £500,000.
John Baker, CEO of Whitehaven Harbour Commissioners, said: "It is so exciting to see The Edge beginning to take shape.
"Whitehaven Harbour Commissioners' mission is to ensure the harbour is somewhere local people can really be proud of. We also want it to act as a beacon for tourism and improving the lives of the people who live here.
"Having a vision is one thing, it's quite another to see it come to life. I commend everyone that has been involved in this project so far and helped make it happen. I look forward to seeing The Edge continue to take shape in the next phase of the construction process."
Flimby-based Thomas Armstrong Construction is the main contractor on the project.
Ryan Robertson, Contracts Manager for Thomas Armstrong, said: "This is certainly a project that has had its fair share of challenges, both in terms of unknown remnants and services discovered in the ground, causing us some initial redesign works.
"This, coupled with overcoming the ongoing global supply chain challenges for materials and frequent high winds, has caused us some issues. But we're out of the ground now and, if the weather lets us, we'll be able to start showing some real progress.
"It's a real privilege for us as a local company to work on something that we know will make such a difference to the town and people's lives and we can't wait to continue into the next stage."
The £4.7m project is being supported by funding from Sellafield Ltd's Social Impact Multiplied – SiX – fund and the Government's Coastal Communities Fund.
Gary McKeating, head of community and development at Sellafield Ltd, said: "It's been exciting to watch the building take shape. The centre is going to be a real asset to the area when it opens, not only in terms of attracting visitors to spend time in the area but also to give opportunities for local residents to make the most of our stunning coastline."
This slideshow requires JavaScript.
Share It: