Up on the fells – Whatever the weather
December first saw the season launch of the Lake District National Park's Weatherline service.
That means that right through until April, one of the Lake District National Park's three specialist fell top assessors will summit Helvellyn each and every day gathering valuable information and reporting on conditions.
The assessors traditionally report from Helvellyn because it's East facing and catches a lot more snow than other fells.  It's also extremely popular with walkers, mountaineers and climbers.
Helvellyn was voted Britain's best walk last year and with highlights like Striding Edge, the 950 metre peak will send many walkers weak at the knees.  However a wonderful walk in the summer can be treacherous when the weather drops below freezing, visibility is poor and snow drifts hide all manner of risks.  In winter even experienced mountaineers need a little help and the felltop assessors provide valuable information that can save lives.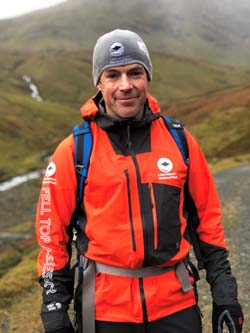 Zac Poulton is now in his second year as an assessor. He's a very experienced mountaineer who has worked everywhere from from the Himalayas to Antarctica.  He's been involved in expeditions, looked after film crews and his work has taken him into some very challenging environments.  He's fully aware that accurate information is vital to mountaineers.
"We carry a weather station, so at the summit we can measure wind speed, maximum gusts, temperature, wind chill and wind direction.  All of that information will be put onto the weatherline website which will be fed back to the Met Office.  We also give a description of the snowpack, the avalanche risk and take some photos.  If ice axes and crampons are needed we will advise so."
The ultimate decision always rests with individuals but reliable advice will help climbers make more informed decisions. The assessors also run a Winter Skills Courses where they take members of the public along with them on their climb.  They show them how to use crampons or ice axes and how to assess the stability of snow slopes.
The assessors aim to be on the summit around midday because most members of the public are up there around then.  They want to be visible, are willing to have a chat and pass on the the message of mountain safety. As experienced mountaineers themselves it's all about knowing your limits and being prepared to adjust your plans to suit the conditions explains Zac.
"There are definitely days where we don't quite hit the summit, it tends to be the wind that stops us. If the wind is too strong you'll get blown around.  On days like that we would tend to try the summit from the West, on the Thirlmere side.  You're away from the edges and on a lot safer ground."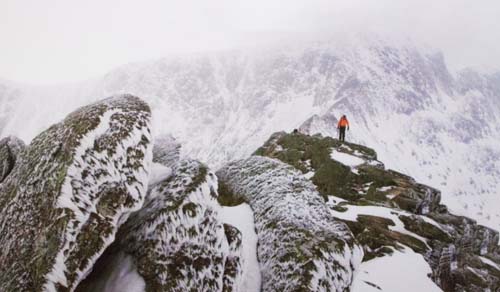 Assessors hold the Mountain Instructors Certificate, which is the highest UK qualification.  It covers everything from ice climbing to winter mountaineering and while all three are experienced some days are more challenging than others.
"Some days are fun at the time and others are better once you come down and your home with a cup of tea in your hands." said Zac.  "Then there are days when the conditions are tricky but you've put all your skills into practice and had a real battle up and down.  Those days you know you've helped people and you really feel like you've done a good job."
In the modern age with all our technology it's comforting to know that the old fashioned ways still prove the most effective.  For 31 years the Lake District National Park has used felltop assessors, that's over 3500 ascents.  We don't need to go into the maths but at over two hours for each round trip that's a lot of man hours spent keeping the public safe.
For Zac,it's all just another day at the office.  He'll back his training and skills in most conditions.  In fact, most of the time he says the drive from home is the trickiest part of his day.
The Weatherline service should be your first port of call to those heading up the fells.  All the information is shared on a live Twitter feed by the assessors during their mountain hike.
Find live reports on Twitter @LakesWeather and online at www.lakedistrictweatherline.co.uk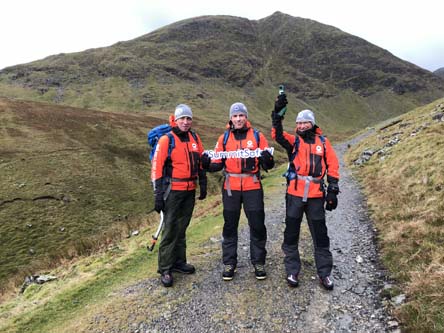 Share It: