Two's Company – Rembrandt and Turner at Tullie House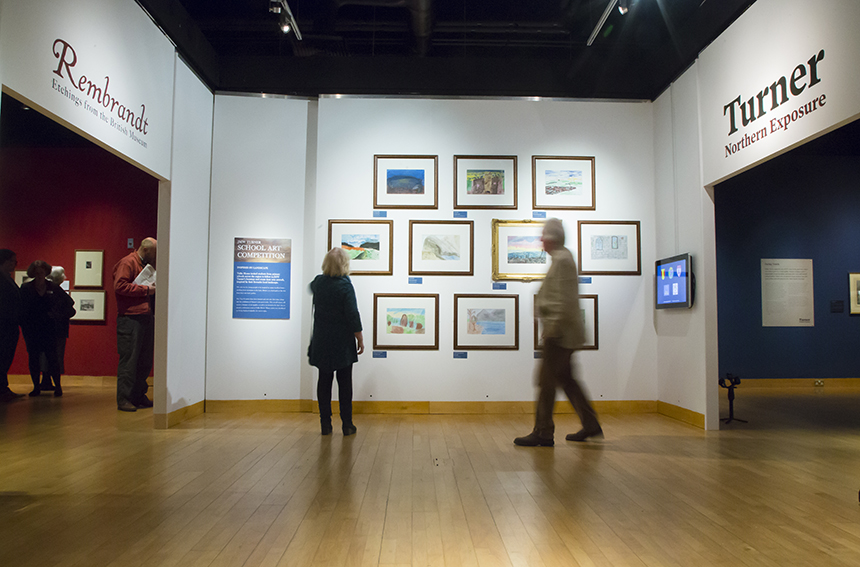 Two's Company – Rembrandt and Turner at Tullie House
Turner and Rembrandt share centre stage at Tullie House Museum and Art Gallery until the 5th of January.

They are exhibiting works by two of the world's most celebrated artists this autumn.  Both were way ahead of their contemporaries and true innovators who changed art forever.
Rembrandt: Etchings from the British Museum
Marking the 350th anniversary of the death of Rembrandt Van Rijn (1606–1669), Tullie House present an exhibition celebrating the ground-breaking etching of one of the most recognised and admired artists of all time.
This stunning selection of original etchings is on loan from the British Museum and gives visitors an insight into the Dutch artist's development, experimentation and pioneering role in the field of etching. The works explore Rembrandt as an artist, the seventeenth-century Dutch landscape and its people.
Rembrandt's prints were a personal venture and were rarely commissioned.  At the core of the exhibition is a loan of 12 etchings that include 'The Omval' (1645), several self-portraits including Rembrandt's last etched image Rembrandt Self-Portrait Drawing at a Window (1648) and a 1631 portrait of the artist's mother.
Melanie Gardner, Tullie House Curator, says "The British Museum holds one of the most important collections of Rembrandt's prints and drawings and it has been a privilege to make this selection from it and create this unique exhibition."
The exhibition gives visitors a unique opportunity to see important works not seen before in Carlisle and includes four later impressions etchings held within the Tullie House collection. They came to the museum in 1949 as part of the significant bequest from Gordon and Emily Bottomley and have never been on public display before.
New works within the exhibition have been created by Making Space, a group of artists living with mental health issues who continue to draw inspiration from the Old Master and his etchings.
The exhibition will be supported by an exciting programme of events including the Exhibition On Screen, Drypoint Printing with Vega Brennan and tours.  Advance booking is recommended so call 01228 618700 to secure your place.
---
Northern Exposure
Fans of Joseph Mallord William Turner, who many consider to be the first 'modern' painter, are in  for a treat too.
He was described as 'the greatest of the age' by art critic John Ruskin but in 1797 he was little more than a 22 year old architectural draughtsman.  That year Turner set out on an eight-week sketching tour of the North of England.  It was a journey that transformed him into the poet of the landscape sublime.  His journey took him to many of the great castles and abbeys in Yorkshire, Co. Durham and Northumberland and the Lake District.
Turner: Northern Exposure illustrates his journey across three galleries in the areas visited on his northern tour.  Between stops at Berwick-upon-Tweed and Harrogate, Tullie House will host the 13 stunning colour studies on loan from the Turner bequest at Tate alongside two of Turner's sketchbooks, which he carried with him on his journey.
It's clear from his visit that Turner had fallen under the spell of our sensational Cumbrian landscape and there are additional works by Turner that were inspired by the location.
This exhibition includes some of the very first mountain-themed works that Turner exhibited at the Royal Academy in 1798, along with later watercolours that reveal his development as a visionary painter and this is a once in a lifetime opportunity to see these ground-breaking works.
Andrew Mackay, Director of Tullie House, says "We are absolutely delighted to secure the works of two such high profile artists. The two collections are genuinely extraordinary. The names of Turner and Rembrandt carry with them so much weight and recognition that we're confident people will be drawn from the whole region to view these masterpieces. It's an honour to be able to share these works with the public."
Tullie House is also running an exciting programme of events, watercolour workshops, lectures and activities for schools, for more information visit www.tulliehouse.co.uk and follow in Turner's footsteps.