Tips for your pets during the firework season

Tips for your pets during the firework season
Oak Tree Animals' Charity, based near Wetheral, have been asking the community to ditch the bang and instead help animals in need by donating this fireworks season. Their Don't Make a Noise Make a Difference campaign has been raising awareness about the negative impact fireworks can have on animals and how pet owners can prepare for this time of year.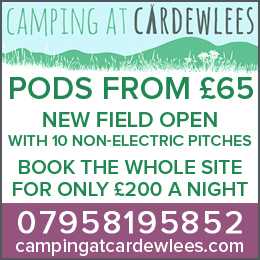 Caroline Johnson, General Manager said "Every year we see an increase in the use of fireworks and, sadly, we know that fireworks terrify many animals every year and some even become seriously injured when running away to escape the noise. 1 in 2 dogs, 1 in 3 cats, and 4 out of 5 horses show signs of fear or anxiety when they hear fireworks. At Oak Tree, we have been working tirelessly to help pets in need and support pet owners by sharing support and advice online, as well as running workshops to answer questions, and provide training and behaviour support to pet owners in our community."
Oak Tree recognise that this time of year can be challenging for both pets and their owners, but there are things you can do to keep 5th November (and the days surrounding) as calm as possible for your pet. Oak Tree has shared their top tips below:
Part of the reason dogs and cats are frightened by fireworks is due to the noise being so unfamiliar. You can desensitise your pet by playing firework sounds at a very low level, rewarding calmness and then gradually increasing the volume as the time increases. Remember to take it very slow, over several weeks and months, at no point should your pet be scared – you can find firework desensitisation sounds online. 
Cosy dens can make all the difference to your pet at fireworks time. Provide your pet with somewhere they can hide away from windows and disturbance. Soundproof using blankets and cushions and put a few of their favourite toys and treats in the den. Introduce the den a few weeks before the event so your pet has time to get used to it. Cats may prefer to sleep up high so clear a shelf in a quiet place, so they feel safe.
Did you know that you can use products such as Pet Remedy, Adaptil (for dogs) or Feliway (for cats) to help support your pet during fireworks. Please ask your vet or local animal charity for advice.
During the fireworks period keep your horse's routine as normal as possible. Check social media and local papers for details of when fireworks displays are taking place and, if possible, stay with your horse and play music during these times to help mask the sound. Don't forget to tidy your equine yard to reduce the risk of fire. Clear away any unused combustible materials like hay, straw, sawdust or paper bedding, and move it away from the stable areas.
Walking your dog during the daylight hours can help you avoid being out when fireworks start. Always keep cats and dogs indoors when fireworks are likely to be set off. If your pet is scared during fireworks, stay with them and reassure them as appropriate. Play calm classical music to help mask the noises and make sure your curtains are shut! Classic FM are playing a Music for Pets playlist on Friday 4th and Saturday 5th November with additional advice from the RSCPA to help you keep your pets calm during this period.
If you are seeking further support and advice, please visit the Oak Tree Animals' Charity website: www.oaktreeanimals.org.uk/support-and-advice or call them on 01228 560082 (between 10.00am to 4.00pm) or email [email protected].
If you would like to find out more about the campaign, please visit the Charity's JustGiving Page to start making a difference: www.justgiving.com/campaign/dontmakeanoise
Share It: