The Red Squirrels of Forest How
While red squirrels continue to suffer from a major decline in the UK, one west Cumbrian guest house is lucky enough to have its very own community of them in the grounds.
At one time red squirrels could be found all over Great Britain they can now only be spotted in wooded areas in the north of England, western Wales and in parts of Scotland. But one place where you're more or less guaranteed to spot one, is at Forest How Guest House in Eskdale.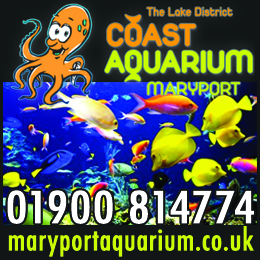 When self-confessed squirrel enthusiast, Peter Trimming from Croydon saw the owner's photos online, back in 2012, he immediately booked a trip up to Eskdale. Peter was instantly hooked and began to pay regular visits to the guest house as he got to know his furry friends. A keen photographer, he set up a Facebook page dedicated to updates on what the Forest How squirrels were up to, which now has a following of over 2,000 people.
Peter would even go on to write a book about his first three years there, and his experiences with one particular squirrel, Belinda, as he said: "The opportunity to study a small group of native red squirrels seemed too good to miss.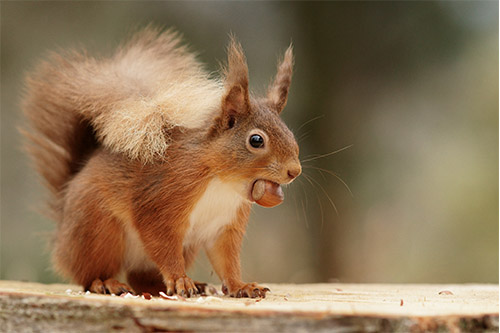 "Some people would say it's an obsession and it probably is. Once you start to get to know the individual squirrels as personalities, then you can start to understand what is going on and that's when it gets really interesting."
Peter hadn't been visiting Forest How long, when nasty bout of Squirrel Pox killed off most of the residents. He was devastated, but after much time and patience, eventually the little community built back up again and he started again with the new visitors. He said: "I'm always learning, and the thing is things are never static."
Characterised by their distinctive red fur and bushy tail, Red squirrels can actually vary in colour throughout the year from a warm reddish-brown in summer, to a deep brown with grey in winter, however, their underside is always cream. Peter explained: "The problem is that 12 months later, the squirrel doesn't exactly go the same colour. This autumn, Belinda's tail hasn't gone anywhere near as blonde as it has in previous years. I have to really look out and work out who's who."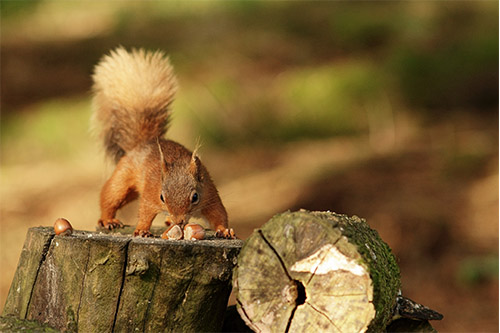 Although they can often be seen nibbling on food sat on the garden wall, the squirrels also like to store surplus food, just in case, and may even be spotted burying, or digging up nuts out on the lawn.
Red Squirrels do not hibernate, so no matter what the time of year, a visit to Forest How should offer the opportunity to spot one or two. However, when the weather conditions are bad squirrels can remain in their dreys for several days at a time – and who could blame them?
When it comes to grub, red squirrels eat spruce and pine seeds, acorns, berries, fungi, bark and sap tissue. However, if you want to find out whether any red squirrels have made their home your own garden, your best bet are hazelnuts.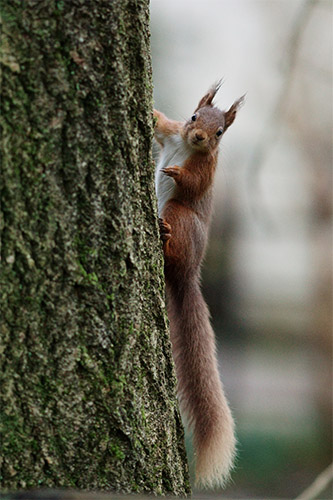 Peter said: "Things like hazelnuts in their shells are very good because they're not something that birds will run off with – apart from the odd clever woodpecker. Squirrel mix, which is a mixture of peanuts and seeds, is probably better for them over all, but if you want to know that it's squirrels you've got then hazelnuts are the best thing."
The West Lakes Squirrel Initiative also sell specific squirrel feeders and squirrel mix is usually available from many local garden centres.
www.facebook.com/ForestHowRedSquirrels
Photos by Peter Trimming
Share It: