Ramble On – A day out with Whitehaven Ramblers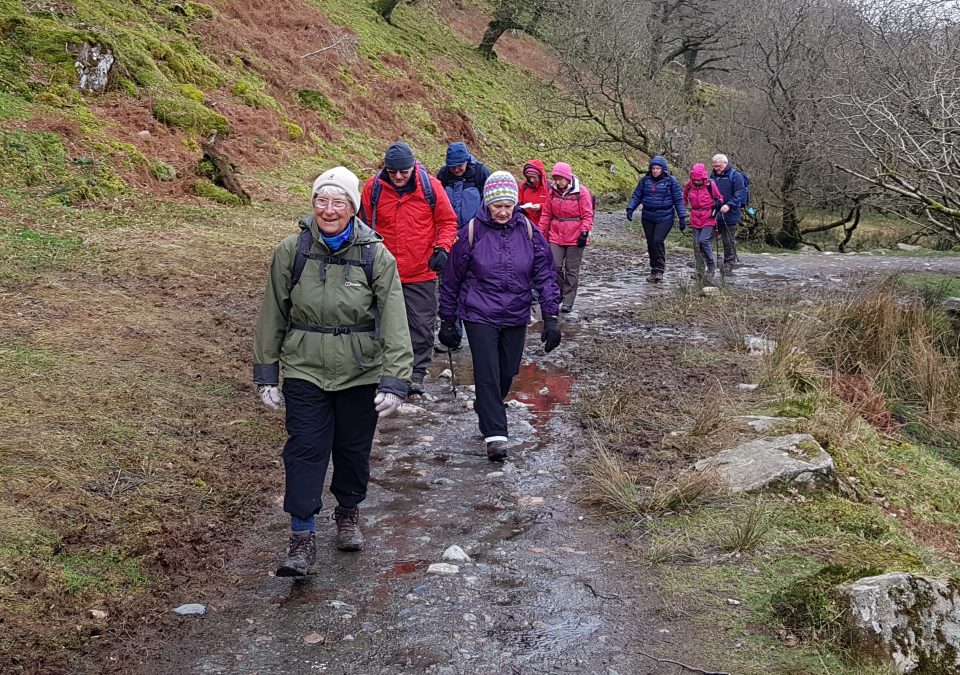 Craig Wishart joins the Whitehaven Ramblers for a Sunday morning wander and finds a lot more than he expected.
I didn't know what to assume when I joined the Ramblers on a walk around Buttermere.  Of course, I know the stereotype so I anticipated an older group of people that like walking and when I pulled into the car park, the group waiting patiently for me was about what I expected.  But that is where my assumptions ended.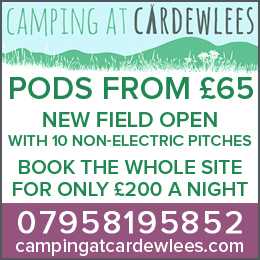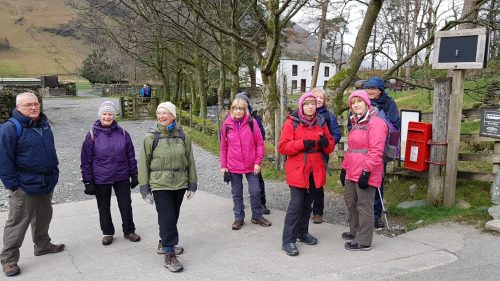 I hadn't known that Whitehaven had a ramblers group so I was surprised to find out that not only is there one but it has over 180 members.  They are also a very active bunch, meeting every second Sunday for walks that lasts around 4 – 6 hours.
The club was started by Roland Taylor back in 1928 when he arranged a walk to Santon Bridge, they are fortunate to have the Lake District right on their doorstep and over the past 90 years they have made the most of it.
Their Sunday walks are graded from tough to easy and I felt quite pathetic on the phone as I explained to Vice President John Black why I had to go on the easy walk due to a sore heel.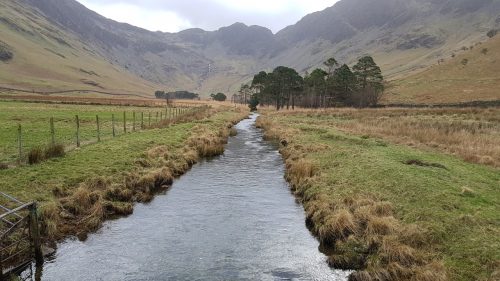 "That's not a problem,' explained John.  "We're meeting to have a good time, people can pick and choose what walk the want to go on, whether it's a tough trek or a bit of a ramble."
Still, I felt bad because John has 30 years on me and I'd forced him to drop out of the toughest walk up Scafell so he could babysit me and my heel.
A dozen of us set off around Buttermere, we didn't set an energetic pace and it was a great chance to have a chat to get to know my fellow walkers and that proved to be fascinating.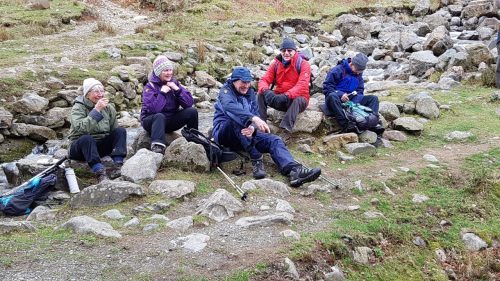 Janet told me how she joined the Ramblers over 50 years ago when she turned 18 and how she'd been coming into the fells ever since. Others revealed how the club was responsible for them meeting their husbands and wives and it dawned on me that the ramblers had been a very important part of life for many people, for a very long time.
I'd packed a miserly lunch of a protein bar and some water and it meant I felt a little left out when the group sat down for a hot drink from their thermos.  With everyone enjoying their steaming brews I politely declined multiple offers before I relented and accepted a drink from my new friend Ada.
Sitting on the rocks below Comb Beck, with a hot drink in my hands the group made me feel welcome and I realised what made it so special.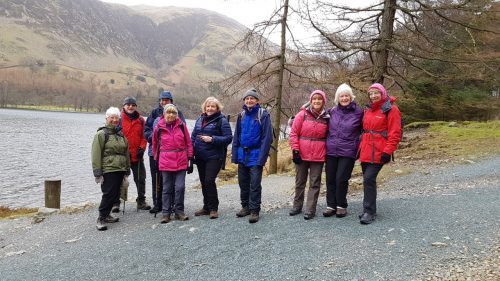 "We're here because we love being out in the great outdoors." explained John. "Many of our members were accomplished fell runners in their day.  Most were fit and active when they were younger. They are part of the ramblers because they love the lifestyle and getting together with friends for a day out."
I was struck by how considerate the ramblers were as we waited for the back of the group to catch up, or how the group cleared fallen branches and trip hazards from the paths and I wasn't surprised when everyone piled into Syke Farm Tea Room to finish the walk off with a cup of tea and a cake.  It's just that kind of day out.
John admits he feels the ramblers have a misleading image: "All Ramblers clubs are always on the lookout for new members, age is not a factor.  People might see us as an older group on a walk but we welcome everyone."
They're a social group too and they organise two or three holidays a year with a schedule of rambles or visits to local attractions for those unable to make the walks.  On the long summer evenings they meet every Wednesday for a leisurely wander and over winter they host a series of talks that range from trekking through the Himalayas to preparing your dog for showing.
It's cheap to join, new members are charged £8 for their first year of membership, which includes a rulebook, an information leaflet and a club badge.
Young or old, fit or not, if you love a walk and a natter then go for a day out with the ramblers.  You'll be surprised by what you find.
For more information visit www.whitehavenramblingclub.org
Share It: