Glory's Story: The Dog Whose Plight Captured Hearts Across The World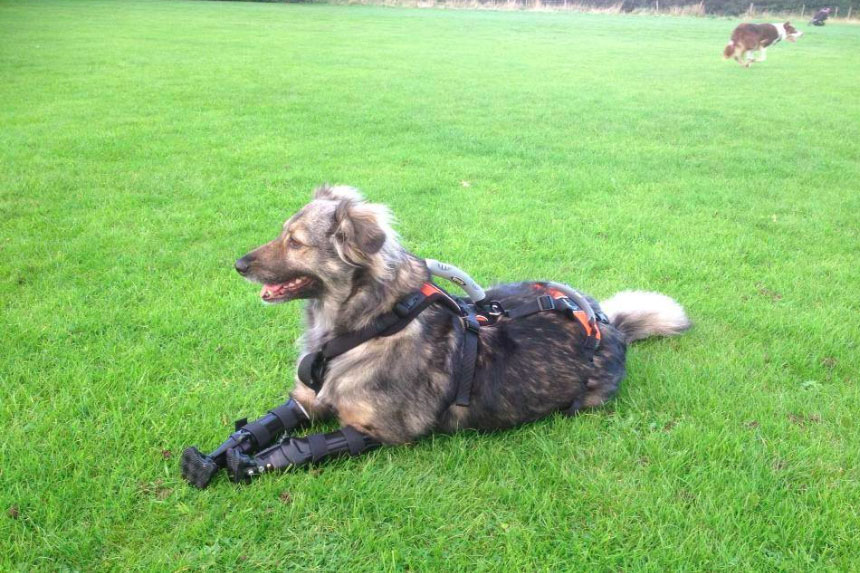 Sarah Sinclair met Glory the one-legged dog whose plight captured hearts across the world – and the woman who gave her a second chance here in Carlisle.
The nine year old Caledonian Shepherd Dog greets me at the gate of her Brampton home. From her friendly, approachable manner you would never guess the horror she has seen. Only the three prosthetic limbs that she bounds around on, give clue to Glory's remarkable story.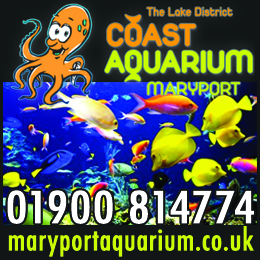 On 25 May 2012, Brampton woman, Vanessa Bamkin saw a Facebook post which changed her life. It was a photo of Glory, lying helplessly on a veterinary table, having had both of her front legs amputated. She needed a home. "My heart just went out," described Vanessa. "I knew instantly that she was going to come and live with me."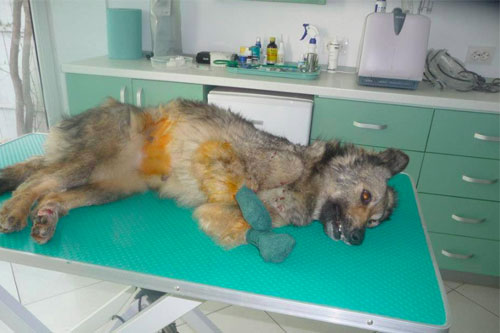 What Vanessa didn't know at this point, was that Glory wasn't in the UK, but actually 2,000 miles away in Bacau, Romania. A stray, she had been living in the grounds of a Pepsi factory, where she was fed two staff members, Manuela and Elena. However, after a short holiday, the women had returned to work to find Glory fighting for her life. She had been subjected to unthinkable torture and sustained injuries so horrific they resulted in both of her front legs being amputated at the knee. She would later also lose one of her back feet, which was too damaged to save.
Undeterred by her husband's concerns it was a scam, Vanessa was put in contact with the European Animal Rescue Society (EARS), who arranged the adoption and on 25 July, they drove down to Essex to collect Glory from a motorway service station. "I was excited and nervous," said Vanessa. "But when I finally met her I was overwhelmed with joy."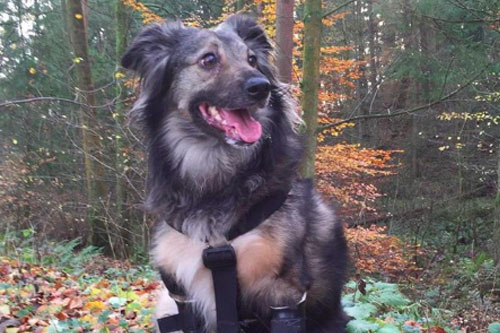 But Glory's journey was only just beginning. The press heard about the adoption and the story spread. Local people began donating money to pay for a front cart and a prosthetic limb for Glory. They set up a Facebook page called 'Get Glory Walking' and donations came in from all over the world, she explained: "The total went up and up, it was an extremely humbling and emotional experience. There were so many lovely words, letters, phone calls and visits from complete strangers wanting to help Glory walk again."
The total reached £3,600; Glory had enough for three prostheses and a short course of physiotherapy, where she learnt to walk again on an underwater treadmill. In September 2012, casts of her legs were made by the local vet and finally at the beginning of 2013, Glory's legs arrived from Denver, Colorado. "The first time she ran with them it was just incredible," Vanessa said. "She's never looked back."
Today Glory leads more or less a typical dog's life. She loves people and children, is a brilliant swimmer and has even learnt to do 'hop ups'. However, every 12 months her legs have to go back to Denver for maintenance, a process which currently costs over £1,200. Vanessa had to come up with a way of raising the cash, she explained: "I started to make and sell things. I've always been a creative person and a few years ago I began felting which has become quite an addiction."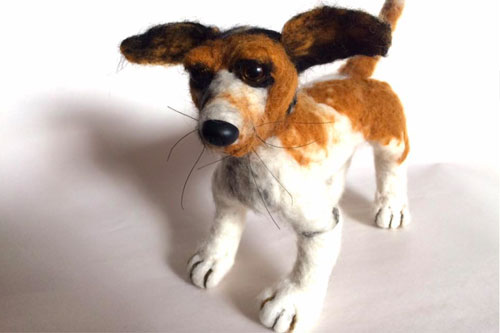 Vanessa set up the aptly named, Happy Dog Designs, handcrafting unique dogs and other animals and characters out of felt. She creates her own designs and takes commissions, with all of the profits going towards Glory's leg fund. "Not in any way do I resent having to make the money for it," she said. "Because it's Glory, she's just one of the family. We cherish every single day."
Vanessa had no idea the journey she was embarking on when she saw that Facebook post five years ago, but she has no regrets. And as Glory prances into the room, looking up expectantly in anticipation of her treat, it's clear that she doesn't either.
"I knew that Glory had to come and live here," Vanessa added. "I just looked at that poor, pathetic dog and fell in love with her. This is her home."
Happy Dog Designs are available at Gone to the Dogs Cafe in Carlisle. Follow Happy Dog Designs on Facebook or contact 07761420009.
Share It: