Carlisle Puppet Pageant: Pulling all the right strings
Plans for the Carlisle Puppet Pageant are well and truly underway.  The community event will be held on Saturday 7th of September and will be produced by Prism Arts with support from Carlisle City Council.
Prism Arts did a fantastic job hosting the event last year and spectators can expect to see the larger than life-size puppets parading from the Old Fire Station at 12 noon.  The parade will journey up to the pedestrianised area, travel around the Farmers' Market and end in front of the Old Town Hall at approximately 1 pm. The Mayor of Carlisle, Cllr Marilyn Bowman, will then introduce each puppet.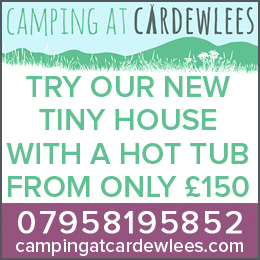 This year's theme is ''A Kaleidoscope of Carlisle Life'' and will celebrate people from all walks of life from weavers, coffee merchants, to astronomers, to fishermen.
"We researched historical characters that have had an impact on Carlisle life," explained Prism Communications Officer, Kat Prior. "We are working with ten different community groups who have chosen which character or aspect of Carlisle life they would like to focus on. Artists are now working with them to create their puppets and we can't wait to see the finished pieces."
The groups involved in are Cumbria Wildlife Trust, Belle Vue Primary School, Tullie House Hope Street, Heathlands, Multicultural Cumbria's Women's Group, Probation Service, Carlisle Women's Group, Carlisle Youth Zone, Music on the Marr and Upperby Primary School.
Leader of Carlisle City Council, Cllr John Mallinson, added: "The Carlisle Puppet Pageant Parade is a great community event which this year will showcase a variety of people from throughout the ages."
For over 30 years Prism Arts has been developing and delivering arts projects which are accessible to everyone.
They predominantly work creating visual arts and theatre productions with people with additional learning needs, older people and younger people. They aim to engage audiences of all ages and backgrounds and endeavour to change perceptions of work created by these often excluded groups.
Prism Arts is based in Carlisle but work throughout Cumbria. They run four weekly arts programmes in Carlisle and one on the west coast. They also run arts projects with organisations such as Cumbria Wildlife Trust, Tullie House Museum and Art Gallery, Cumbria Museum of Military Life, as well as many schools.
All of their projects are run by professional artists who work in partnership with the participants, facilitating them in all aspects of the creative process from research, creation, exhibiting and performing.
Projects are shaped and led by participants and they have a significant impact on people's lives in a way that is beneficial to their health, wellbeing, creative development and confidence.  Last year Prism ran over 600 workshops which gave 2,500 individuals of all ages the opportunity to explore, develop and reveal their creative talents. The exhibitions and theatre productions they produced over the last year were enjoyed by over 200,000 people.
Prism's projects aim to deliver something extraordinary and make a difference to the people they work with and the Puppet Pageant brings residents of Carlisle together in celebration. Prism's own Studio Theatre Group will perform some street theatre afterwards.
"This year's Parade will feature a variety of people and achievements that have made the city what it is today," said artistic director Ali McCaw.  "We would like to thank Carlisle City Council and the National Lottery Community Fund for their support, we hope the local communities can get involved by lending their help too. There are lots of opportunities to be part of the celebrations."
Prism Arts will be opening their Carlisle studio between 27th of August and the 6th of September, if anyone would like to help finish the puppets during this time, they can volunteer their support by contacting Kat Prior by emailing kat@prismarts.org.uk or calling 01228 587691.
This year the event was also awarded almost £10,000 from The National Lottery Community Fund which supports the annual funding from Carlisle City Council.
For more information visit www.prismarts.org.uk
Carlisle Puppet Pageant. The March for the Unsung Women of Cumbria is the theme of this years puppet parade produced by Prism Arts: 1 September 2018
STUART WALKER
Stuart Walker Photography 2018
Share It: