Suicide Safer Action Group launches in Allerdale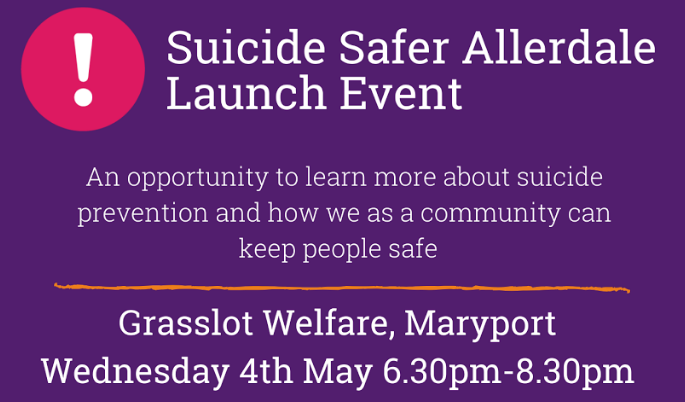 Suicide Safer Action Group launches in Allerdale 
On the 4th May Every Life Matters will be launching suicide safer Allerdale, aiming to bring together  people who want to make a difference to the stubbornly high suicide rates across Cumbria.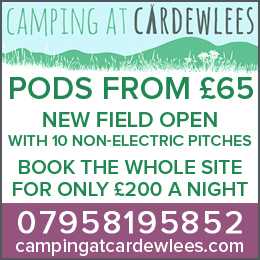 Chris Wood, Charity Manager at Every Life Matters, a Cumbrian Suicide Prevention and Suicide  Bereavement Support charity, said;  
"Most people have been touched by suicide in their lives, whether that be through the death of a  family member, friend, colleague, neighbour. It is a particularly traumatic form of loss and ripples  right out across our communities. Since starting our charity three years ago, we have met so many  people who want to do something about the issue, but often don't know where to start. But there  are actions we can all take to make a difference, whether large or small.  
Suicide is a complex issue, and there is no easy fix. To reduce suicides we need to break down the  stigma around mental health and make reaching out for support at a time of crisis a normal thing to  do – most people dying by suicide do not reach out for help. We need the community around that  individual to better understand suicide, be able to talk openly about the issue and to understand  that everyone can play a role in supporting someone at risk. We need safer services, which are  accessible, compassionate and effective. And we need to ensure that there is support in place for all  those bereaved or impacted by suicide."  
This launch meeting is for anyone living or working across Allerdale who wants to make a difference  about suicide, and an opportunity to;  
∙ Learn more about suicide and its impact in Cumbria  
∙ Some of the myths and facts about suicide and suicide prevention  
∙ Find out what we can all do to play a part in preventing suicides  
∙ Hear from people who have already taken action in their local community  ∙ Meet others in the area who are keen to take action and make a difference  ∙ Begin to plan a range of suicide prevention activity in your local area  
We encourage people to bring their ideas, their enthusiasm and the hope that we can make a  difference. 
———————————————————————————————————– 
A number of local guest speakers will also talk at the event about action they have taken against  suicide including Ben Snowdon – Chief Executive Officer of Cumberland Football Association, Neil 
Waine Project development champion for Andys man club, Jaqueline Pae of CHICCS Children in Crisis  Cumbria Support and others.  
The event will also host a variety of stalls were attendees can gather information about local services  and resources to support those experiencing thoughts of suicide.  
Ben Snowdon of Cumberland FA said "We are pleased to be supporting Every Life Matters Cumbria  at their upcoming Safer Allerdale event. As an organisation we are acutely aware that a large  percentage of our members may be impacted by this issue and therefore have worked in  partnership with Every Life Matters – Cumbria to try and raise awareness within our clubs and  leagues of the fact that talking about suicide can save lives and that its ok to reach out and ask for  help."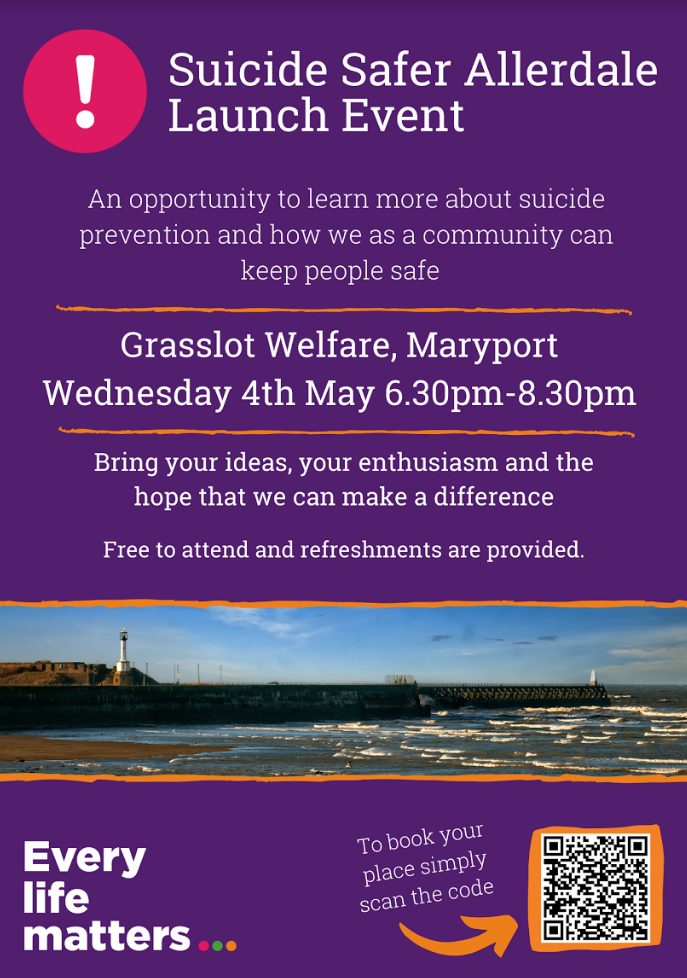 ———————————————————————————- 
In 2020 70 people died by suicide in Cumbria. Our suicide rates have remained stubbornly higher  than the national average. Every suicide is an individual tragedy, affecting a number of people  directly and often many, many others indirectly. The impact of suicide can be devastating – psychologically, emotionally and economically – for all those affected.  
Around three quarters of people who die by suicide in England are not in contact with any mental  health services in the year leading up to their death, meaning suicide prevention needs to be  community wide concern. It needs to be everyone's business. It is friends, family, work colleagues,  neighbours and our network of community and voluntary organisations – not just those in mental  health services – who have an important part to play in saving lives. 
———————————————————————————- 
This event is free to attend and will take place at Grasslot welfare in Maryport. Refreshments  provided. To help us manage numbers please register on Eventbrite 
Suicide Safer Allerdale Action group Tickets, Wed 4th May 2022 at 18:30 
———————————————————————————- 
Local press are invited to attend the events both for the purpose of covering the event and in order  to find out more about how our local print, radio and TV media can contribute to Safer Communities 
For more details and interview contact;  
Ian Alcock – West Cumbria Suicide Safer Community Co-ordinator, Every Life Matters 073097 07430 [email protected] 
Chris Wood – Charity Manager, Every Life Matters 07908 537541 chris.wood@every-life matters.org.uk 
———————————————————————————-
Support 
For more information about where to get help when you are struggling with thoughts of suicide, or  how you can support someone at risk, visit https://www.every-life-matters.org.uk/find-support/ 
If you are having thoughts of suicide, or have been affected by this article, support is available at;  
Samaritans – Call 116 123 – There round the clock, 24 hours a day, 365 days a year. PAPYRUS – Call 0800 068 41 41 – 9am to midnight. Support line for young people at risk of suicide.  CALM – Call 0800 58 58 58. Men's Helpline open 5pm – Midnight 
Shout Crisis Text Service – Text Shout to 85258 to get 24/7 text support 
Young Minds Crisis Text Service – Text YM to 85258 to get instant support 
MindLine Cumbria – 0300 561 0000 Mental health information, guidance and support. 
County Suicide Stats  
We have a small population so variations between years need to be treated with caution. Full stats  are available at the Office for National Statistics. For more information, see;  
https://www.ons.gov.uk/peoplepopulationandcommunity/birthsdeathsandmarriages/deaths/datase ts/suicidesby localauthority 
Suicide in Cumbria  
On average we lose one person a week to death by suicide in Cumbria. More than double the  amount of people who die on our counties roads. Cumbria's suicide rates remain consistently higher  than the national average – nearly 20% higher during 2017-19. Barrow-in-Furness during this period  also had the second highest suicide rates in the North of England. 
Nationally 6,507 people died by suicide in the UK in 2018, roughly around one death every 90  minutes. Suicide remains the leading cause of death of young people under 25, of death of all men  under 50, in the UK. Suicide remains a very significant issue in our society, and with no sign of  abating. Recent trends indicate that in 2018 deaths by suicide rose by 11.8% in the UK, with the rate  of deaths in under 25's rising by 23.7% 
Nationally  
Nearly 6,000 suicides occurred in the UK in 2018. This figure means there is one death by suicide  every 90 minutes.  
Suicide is the leading cause of death of our young people in the UK. Over 200 school children are lost  to suicide per year.  
Suicide is the leading cause of death in mem under 50. 
https://www.ons.gov.uk/peoplepopulationandcommunity/birthsdeathsandmarriages/deaths/bulleti ns/suicidesin theunitedkingdom/previousReleases 
Nationally three times as many people die by suicide each year as who die on our roads  
∙ Office for National Statistics (2017). Suicides in the UK. Available at:  
https://www.ons.gov.uk/peoplepopulationandcommunity/birthsdeathsandmarri … [Accessed on 21/08/18].  
Only 27% of people who died by suicide between 2005 and 2015 had been in contact with mental  health services in the year before they died.4  
∙ Healthcare Quality Improvement Partnership (2017). National Confidential Inquiry into  Suicide and Homicide by People with Mental Illness. Available at:  
http://documents.manchester.ac.uk/display.aspx?DocID=37560
One in five of people will have had thoughts of suicide in their lifetime and 1 in 15 of us are estimated to have made a suicide attempt at some point in our lives.  
∙ McManus, S., Hassiotis, A., Jenkins, R., Dennis, M., Aznar, C., & Appleby, L. (2016). Chapter  12: Suicidal thoughts, suicide attempts, and self-harm. In S. McManus, P. Bebbington, R.  Jenkins, & T. Brugha (Eds.), Mental health and wellbeing in England: Adult Psychiatric  Morbidity Survey 2014. Leeds: NHS Digital  
∙ https://files.digital.nhs.uk/pdf/q/3/mental_health_and_wellbeing_in_england_full_report.pdf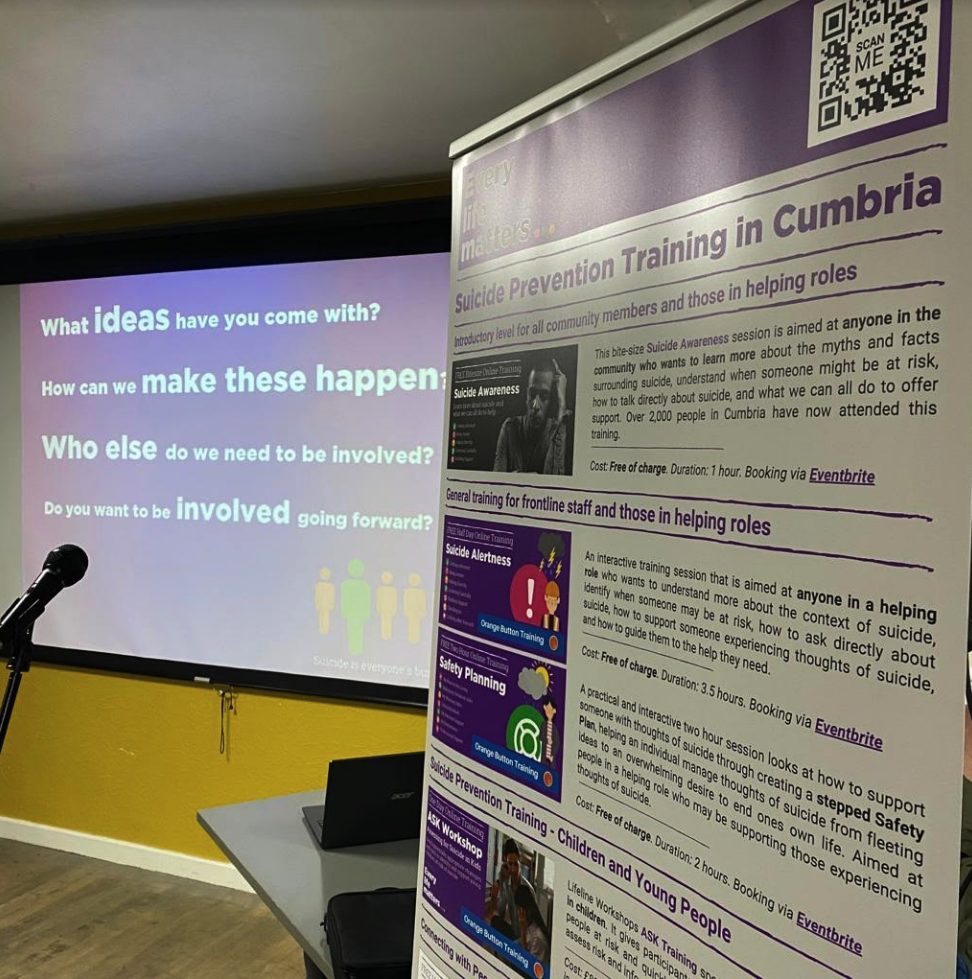 Share It: