Carlisle Fireshow 2022 – Fireshow village planned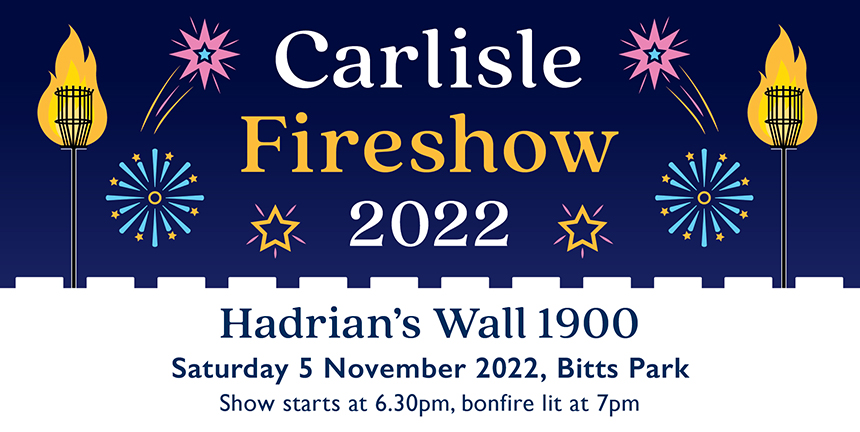 Carlisle Fireshow 2022 – Fireshow village planned
This year's Fireshow event programme includes a new Fireshow Village in Castle car park.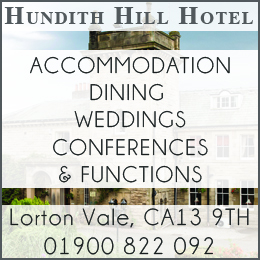 Offering food and family entertainment, it will be open between 5pm and 8.30pm.
In addition to food and drink providers, there will also be family entertainers – a light up juggler, the Rainbow Wishes Foundation, Circus Alba stilt walkers and if you donate to the charity collection, face painting too.
This year's Carlisle Fireshow will celebrate the 1900th anniversary of Hadrian's Wall.
The sparkling event is part of the Hadrian's Wall 1900 Festival and will be held in Bitts Park on Saturday 5 November, starting at 6.30pm.
The centre piece bonfire will be Roman themed and more than 2,000 spectacular sparkling fireworks will also light up the sky.
It will be the 33rd Fireshow event staged by Carlisle City Council and is organised in conjunction with Merlin Fireworks Ltd.
Leader of Carlisle City Council, Cllr John Mallinson, said:
"This year's event will celebrate the celebrate the 1900th anniversary of Hadrian's Wall. As well as a 40-foot bonfire, there will thousands of fireworks and it is set to be must-see event not to be missed."
Admission is free. A charity collection will be held with all donations going towards the Rotary Club of Carlisle South, (which donates most of its fundraising efforts to local good causes) and the Mayor's Charity Fund (Carlisle Key, CFM's Cash for Kids and Jigsaw, Cumbria's Children's Hospice). Volunteers will be holding charity buckets on the entrance to the event and organisers are asking the Fireshow's adult spectators to consider giving at least £2 each.
Carlisle Fireshow is a family event, and no alcohol will be permitted on site or within the Fireshow Village in Castle car park (formerly known as Devonshire Walk car park).
More than 35,000 people are expected to attend the City Council event.
Fireshow Facts
Carlisle Fireshow began in 1987 as a community event designed to bring local families together for a fun night out in a safe environment. Around 200 people were expected to attend the first event however it attracted a 2,000 strong crowd.
The 1987 Fireshow was held on October 31st. In 1990 there were four bonfires. A giant bonfire now forms the centrepiece of each event. Up until 1994, the fireworks for the Fireshow were released from inside the grounds of Carlisle Castle keep and battlements.
The Carlisle Fireshow has developed in to one of the biggest events of its kind in the UK, attracting a 35,000 strong crowd each year and is listed in The Times Top 10 bonfire list.
Admission to the event is free but a collection is made for the Mayor's Charity Fund and the Rotary Club Carlisle (South).
Parking/Access information & Safety Advice
Barrier controlled car parks (West Walls and Caldew Riverside) – Car park closures will be suspended on the evening of Saturday 5 November.
The following temporary traffic arrangements will apply throughout the day (Saturday 5 November):
No vehicle access to Bitts Park.
No vehicle access to Dacre Road (adjacent to Carlisle Castle and Bitts Park).
Parking for Blue Badge holders will be available at Castle car park (formerly known as Devonshire Walk car park). This will be available on a first come, first served basis with the last entry at 5.45pm. Vehicles parked within this car park will not be able to leave until 8.30pm.
No parking in Bitts Park car park.
No vehicle access to Bitts Park from Willowholme or The Sheepmount.
The skate park will be closed on the day of the event.
Access
A special viewing area for people with disabilities including wheelchair users will be set aside on the Sheepmount Road. Up to two carers allowed on the viewing area per individual.
After the event has ended, those wanting to walk to the west of the city will be filtered to the right of Devonshire Walk (towards Caldewgate and the pedestrian crossing opposite the former Globe public house) and those wanting to walk into the city centre will be filtered to the left and will then be able access Castle Street across Castle Way (between the barriers opposite the Castle).
Safety
Visitors are asked to note that by the very nature of the event, smoke, noise, embers and mud underfoot, are inevitable. All are requested to be mindful of the risks and to come prepared for such eventualities: warm clothing and suitable footwear. For safety reasons, no fireworks of any kind (including sparklers) are allowed into this event. Pets are also prohibited from the park: they should be kept safely at home to avoid any possible distress. The sale of glow sticks and other fluorescent items should only be purchased from official sales staff based in Bitts Park.
Share It: