Why Consider Perfecting Your Den Building Skills for the Festive Season?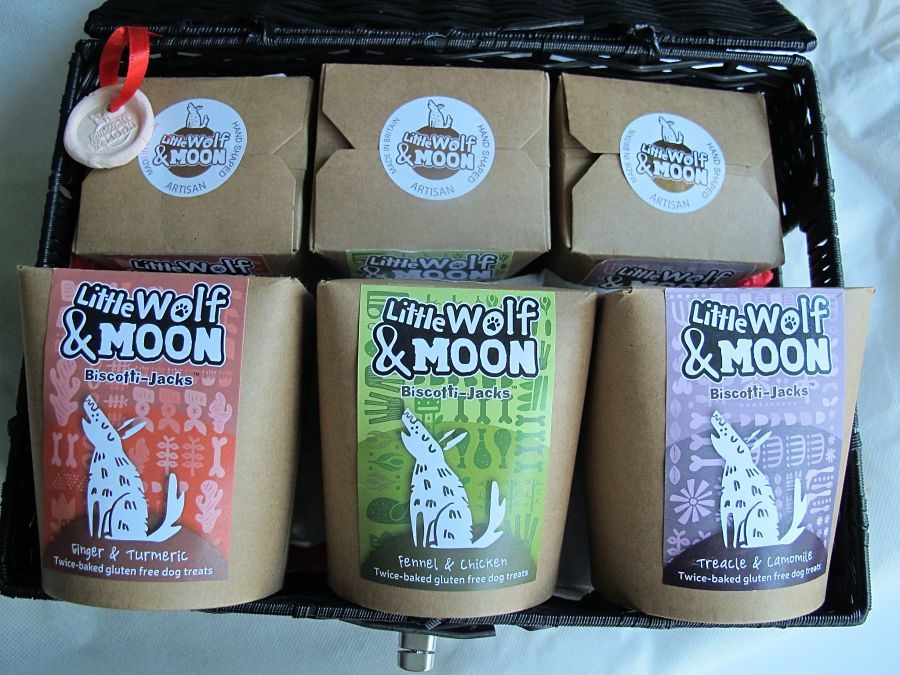 Most of us remember building dens as kids, but as Laura Brockbank of Staveley Dogs knows, in the run up to party season and yet more fireworks, a well-built indoor den can provide a much-needed haven for fractious dogs.
 Laura's Guide to Creating the Perfect Den for Your Dog
A good den needs to be cosy, strong, soundproof and easy to access. A good den doesn't need to be expensive, fancy, time consuming to build, or take up lots of your living space. 
To plan your dog's den, you need to consider the following points: 
∙ Which areas of your home are naturally the quietest?
 ∙ What to use as a frame for your den? 
∙ How to make it stable/safe and what materials to use. 
Soothing Sounds  
Before you start to build the den for your dog you might want to consider using a good quality radio, portable or plug-in. Or if you have a tablet and some good quality wireless speakers try placing these besides, on top of, or possibly inside the den. Where you choose to place the radio and speakers depends on how you believe your dog will behave around the equipment. 
If you have a chewer or a 'destructor-dog' then place your radio and speakers out of reach but as close as possible to the den.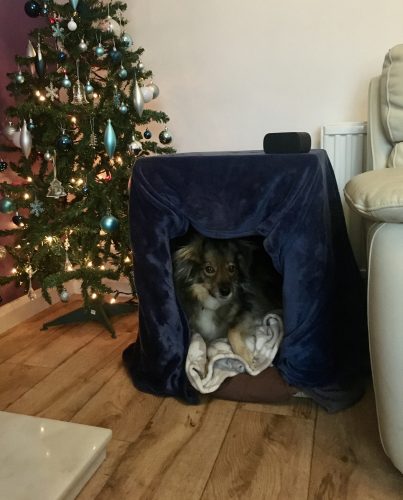 Choosing A Frame for Your Den 
 Crate Den
The easiest way to make a den for your dog, it's made for you, all you need to do is cover it with a dark blanket then place their favourite and comforting items inside. 
Sofa Den
If you don't have room for a crate use the back of your sofa to create a dark place for your dog to go.
Wardrobe Den
Clear out the bottom of your wardrobe and fill the bottom with soft throws, a dog bed or cushions.
Hidey Hole Den
Carve out a small area under your bed for your dog to crawl into, block off most of the space under the bed, leaving your dog with a cosy pocket where they can hide.
Nesting Den (small breed friendly)  
Nest of tables/Side table are ideally for small/toy size breeds. Drape a cover over the table size you require to create a cosy little hideaway. 
Depending on my dog's size which option should I go for?
Giant/Large Breeds. If you have the space, a large crate makes a great den for the big breeds. If you don't have the space, move your sofa out from the wall just enough so your dog can get behind and lie down. Use the no nails hooks to hook a blanket to the wall and drape it over the sofa. If you have a radiator behind your sofa make sure to turn it off. If your dining room table is tall enough, drape over a dark blanket and allow them to hide under there. Ensure the blanket(s) reach the floor so no light gets in. 
Toy/Small Breeds. A small crate makes a great den for small dogs. However, if you don't have one you can always use a side table or nest of tables to create a den. Drape a dark blanket over the table ensuring the cover touches the floor. Make sure you don't place anything on top of the table in case it falls off and hurts your dog.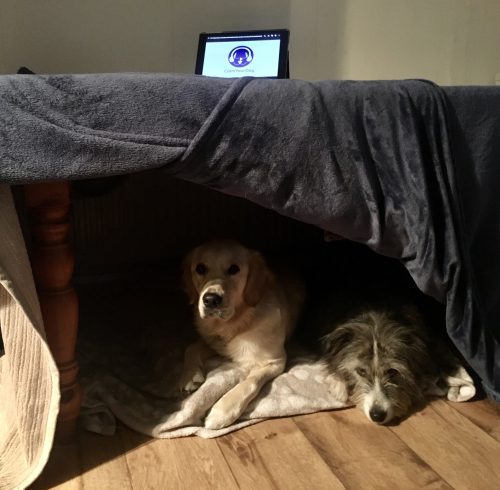 What should I include in my dogs' den? 
Blankets which smell of you and your dog. Toys. 
A favourite toy, or a toy that your dog associates with rest/sleep. Favourite bed. If your dog has more than one bed, choose the one they sleep in the most. If they don't have a bed and use the sofa, use a cushion or throw from the sofa. 
Something to chew/eat. A rawhide chew, kong stuffed with calming treats*/peanut butter. Don't use their normal food. This needs to be something you consider to be a treat. Place a bowl of water near the den, but not inside, if your dog is unsettled, they will move around and are likely to knock the water over. 
Now you that you have done all the hard work and created a sanctuary for your dog to use during noisy stressful times, how do you encourage them to use it and feel comfortable in it? 
The first thing you must do is encourage curiosity, when your building the den allow him/her to investigate and watch what you're doing. You don't want them to start playing while your setting the den up, you want them to sniff and go inside. 
When you've got it set up, sit near the entrance to the den and ask your dog to come to you. Place your hand inside the den and encourage them to follow your hand, using a treat or toy will help your dog to see this new place as a good thing. When they go inside just sit and watch them explore, you don't need to say anything at this point. Casually move away from the den and leave them to it. 
They might come out straight away because you've moved away, this is ok, don't worry. When you see your dog going into the den again praise them calmly, each time they go into the den give them some praise. 
If your finding your dog won't go in the den without you being close by, place some treats inside the den, away from the entrance so they must go all the way in to get the food.
 You'll find over a couple of days your dog will become more and more confident in entering their den. You want to get your dog used to the den coming and going. After a week take it down and then a week or so later create it again, keep the den the same each time, same place, same shape/style. This will allow your dog to become comfortable with the change in their environment and won't come as a shock when you put their den up around bonfire night, New Year's Eve and any other event using fireworks. 
If you would like some help with your dogs behaviour visit StaveleyDogs.co.uk and get in touch with Laura today.
Make sure to look into the dog treats you use during stressful times, getting the right dog treats can make a big difference to the way your dog handles difficult situations and stress. Dog treats can be a helpful way to encourage your dog to enter their new den, but not when they are loaded with additives, colourings, flavourings and preservatives. 
I prefer to use natural gluten free dog treats where possible when training my pack, such as Little Wolf & Moon Biscotti – Jacks which contain a blend of calming Botanicals to soothe nervous digestive systems.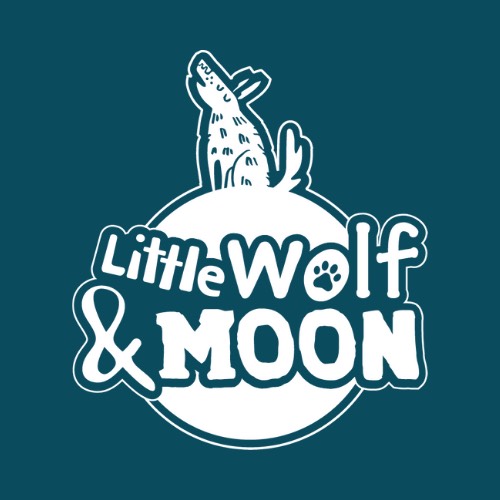 Win A Luxury Little Wolf & Moon Treating Hamper for Your Dog 
Little Wolf & Moon are giving away a paw licking good, luxury hamper, containing 6 boxes of their luxury artisan gluten free Biscotti – Jacks including their most popular flavours; Ginger & Turmeric, Chicken & Fennel and their Treacle & Camomile flavours; in hand designed environmentally friendly packaging, featuring the fearless Little Wolf sat on the moon finished with copper foil seals.* Find them at select stockist 
How to enter, find Little Wolf & Moon on FB, lick/like them and follow their page and leave a comment about why you think your dog would enjoy receiving this hamper of tummy-friendly biscotti for dogs.
 https://www.facebook.com/littlewolfandmoon
*The winner will be chosen at random on Friday the 27th Of December and notified via Facebook   
Share It: