TV star to headline Maryport's Taste Cumbria Comedy Night 
TV star to headline Maryport's Taste Cumbria Comedy Night 
A star of radio, stage and screen will be headlining the Taste Cumbria comedy night at the next Taste of the Sea festival in Maryport.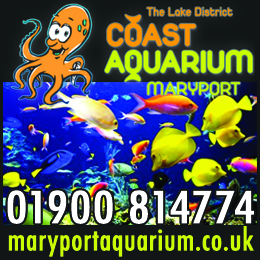 Clinton Baptiste, best known for his appearances with Peter Kay on Channel 4's Phoenix Nights, will perform at Maryport Rugby League Club, on Saturday 13 August from 7pm.
The flamboyant medium, psychic and clairvoyant, famed for his cringe-worthy comments and complete lack of empathy as he delivers paranormal predictions, is the alter ego of actor Alex Lowe. When he's not donning Clinton's blond wig and flashy suits, Alex is also known as Barry from Watford, a regular with Steve Wright on BBC Radio 2, as well as starring in everything from Shakespearian classics to television dramas.
Clinton Baptiste will top the bill at the ever-popular Taste Cumbria comedy night alongside a great line-up of stand up comics. The MC for the evening is Cumbrian festival favourite Mike Wilkinson who compered the event brilliantly in Maryport last year – once he was freed from a loo with a dodgy lock! He has supported the likes of Peter Kay, Johnny Vegas and Ross Noble, as well as headlining clubs all over the country.
Iain Hume promises 'good classic Scottish banter' and is 'wonderfully deadpan with impeccable timing' according to his reviewers, while Roger Monkhouse has a 'stage-prowling style' and is 'a master of observational comedy'.
Tickets are on sale now priced £20. Visit www.visitallerdale.co.uk/things-to-do/taste-cumbria-maryport/ to book.
Councillor Mike Johnson, Leader of Allerdale Borough Council which organises the Taste Cumbria events, said: "We've got a great line-up for the comedy night though I suspect Clinton Baptiste's set won't be for the faint hearted!
"It's brilliant to be able to bring big names to our festivals, alongside the food and drink and family entertainment taking place in the heart of the towns. This promises to be a fantastic night."
Share It: