Walkingshaw Celebrate 50 Years of Selling Cars by Giving One Away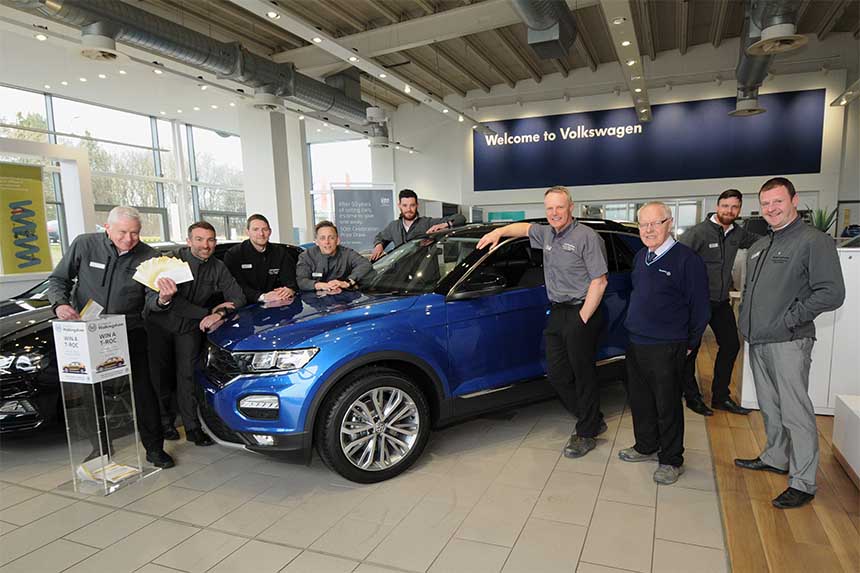 After 50 years of selling cars, Walkingshaw have decided it's time to give one away.  
The renowned Workington-based car dealership has come a long way since brothers Norman and Martin Walkingshaw set up the business in 1968. They could hardly of foreseen that all these years later it would be celebrating its 50th anniversary.  
To mark the momentous occasion, after 50 years of selling cars to the people of west Cumbria, they have decided to give one away for free. Every customer who takes delivery of a new or used car from Walkingshaw throughout this special year will be entered into a prize draw to be in with a chance of winning a Volkswagen T-Roc, when the winner is chosen at the beginning of 2019.  
Managing Director, Andy Walkingshaw said: "It's quite a landmark to reach 50, particularly when the company started out quite small. To still be here 50 years later and for one of the brothers to still be working in the business, it's quite remarkable really."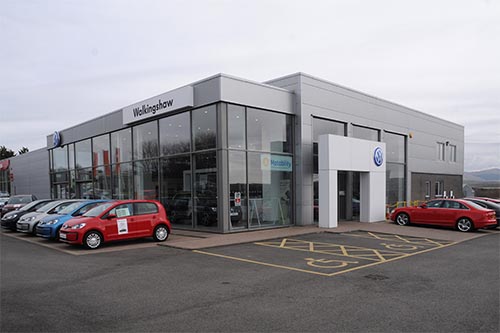 The two brothers began their partnership in Whitehaven, with Norman – who is still involved in the business today – looking after the mechanical side and Martin the sales of parts and accessories. The business then moved to the old Co-op building in Kells and began selling used cars. It's first new car franchise was Morris, which over the years changed to Austin Rover and in 1985 Walkingsaw succeeded in acquiring the Volkswagen franchise for the area.  
Norman's son Andy joined the business in 1998, by which point they had two branches, one in Whitehaven and one in Workington. To accommodate the new image and modern facilities of the Volkswagen brand the two were brought together to create one large premises at Lillyhall where they remain today. A few years later they obtained Kia Motors and expanded again with a new showroom.  
Andy who has been part of the business for 20 years now, said: "I think the reason that our customers come back again and again and have bought cars from us and have them looked after over the years because the family principles are very much the same.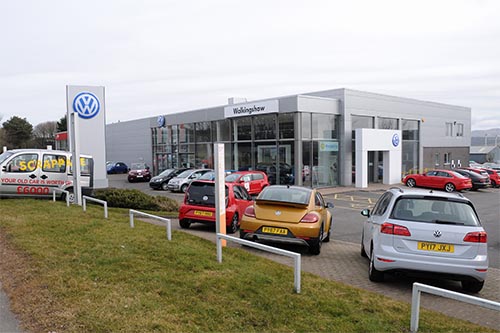 "We are here for the long term. 50 years is testament to the fact that we make decisions based on the fact that we are west Cumbrian and we serve the people of west Cumbria. If we're going to be here a long time we need to look after them because we want those customers to come back again and again. We don't have branches elsewhere, this is us and our focus is almost entirely on customers in west cumbria."
Word of mouth can be a powerful marketing tool anywhere but particularly for a company in more rural areas such as west Cumbria, people are, more often than not, swayed by the opinions of their associates and Walkingshaw come highly recommended.  
Andy added: "Our family name is above the door. I live in the area and walk down the streets of our towns. I want to make sure that I can do that whilst being proud of the name above the door."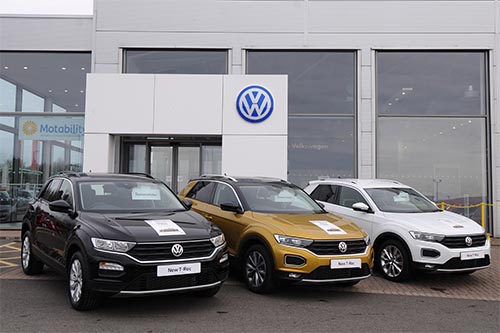 The other factor in their success of course, is the vehicles that they sell. The decision to move from Rover to Volkswagen in 1985 turned out to be an extremely smart move indeed, Volkswagen have now become the world's largest car manufacturer. Meanwhile Kia Motors has been the fastest growing new car franchise in the UK for many years.  
"That has been a really strong contributor to our success as well," Andy said. "And the fact that my father is still actively involved, that he has continued to work hard and put a lot back into the business. We reinvest in facilities that have been constantly improving and I think that's important to take a long term view."  
So what about the next 50 years?  
Andy said: "We'll be all electric vehicles for sure. We will be starting to sell significant numbers of the next few years and eventually completely change over. It's the start of a really exciting period as the industry develops." 
He added: "It's a long time to predict, but we intend to be around for a good deal longer as we look forward to continuing to take care of people's motoring needs in west Cumbria."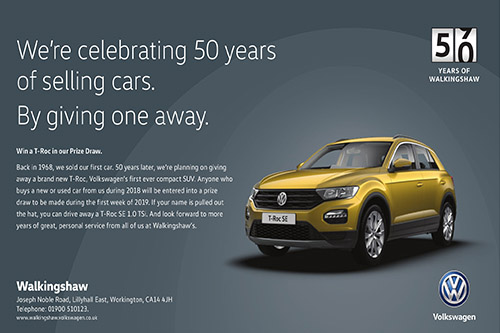 For more information visit www.walkingshaw.co.uk/ or contact 01900 608000 
Share It: