Vintage Make-Up with Bridget Foster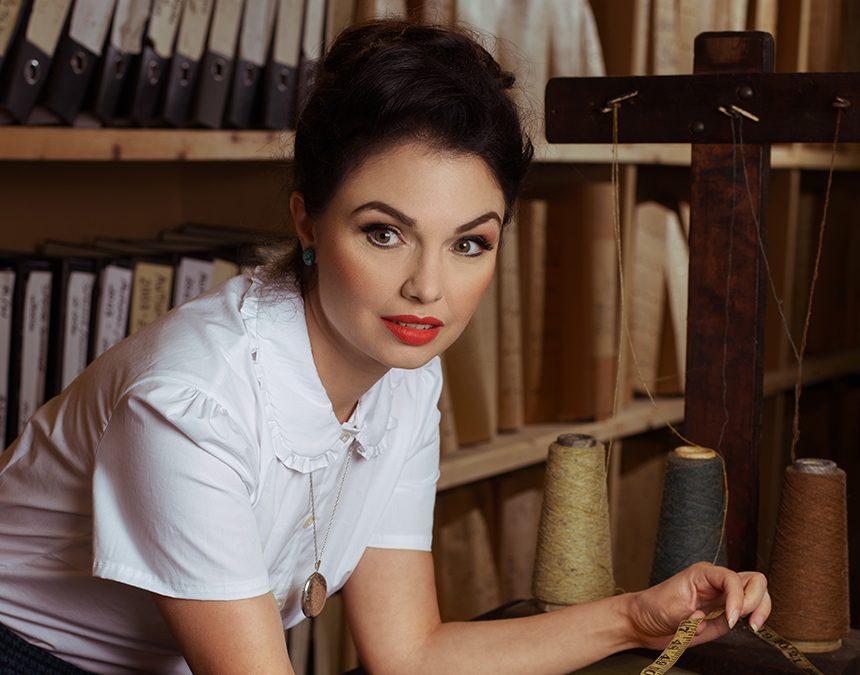 Vintage Make-Up with Bridget Foster. 
The Vintage look has an elegance all of its own and our resident makeup artist, Bridget Foster, explains what you'll need to achieve this timeless technique at home.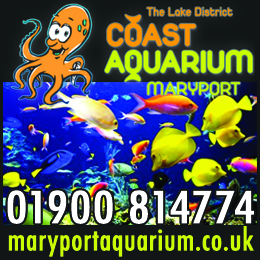 I was booked to create the hair and makeup look for a new fashion company, Roses Wardrobe, which is based in the Scottish town of Langholm.
Emma and Leanne have been busy designing and creating some vintage fashion items that are sourced using organic fabrics from Scotland and the photoshoot needed the makeup to match.
The look of the 1940s is sophisticated and faces were flawless and fresh looking. Photographer Tommy Martin and Katie Jay produced the images and the reaction on social media was positive with people loving the vintage hair and make-up looks.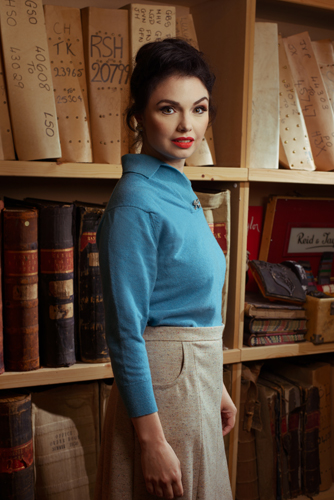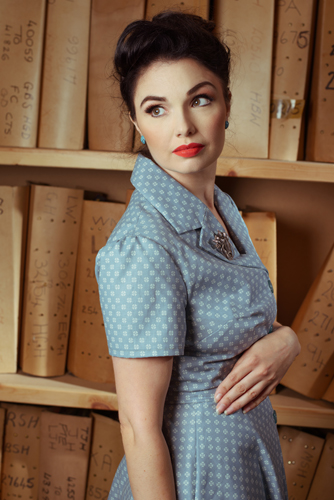 The red lip vintage look is a classic but I never like to carbon copy the look completely.  We don't want to go too far, it's not a theatre drama. It's nice to take elements of the look and update it for a wearable style with the use of our amazing modern products.
The key 1940s facial features are eyebrows and lips and I would say the flick liner pushes more towards the 1950s.
With a fabulous and authentic location and styling, I updated this vintage look with an orange toned red lips and eyes. This worked so well with the small elements of blue in the fabrics and background items. I have used this shade on many "red lip" looks.  It just works well on most skin tones and I used it on Vicky during the lanes shoot recently.  It looks completely different as we styled it with modern clothes on a blonde model.  Our model for this shoot was the gorgeous Simone, who has black hair and a cooler skin tone.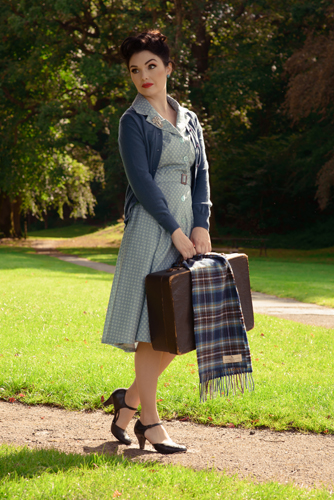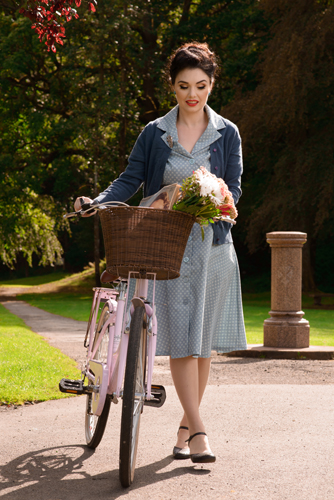 Adding half eyelashes to the corners of our perfect model Simone's eye, gives a subtle illusion of a more elongated eye. I also added a black feline flick eyeliner to keep the look strong and clean.
Her skin was kept flawless but not completely matt. Keeping the skin matt would almost make the look theatre. A modern skin keeps the look appealing to clients with nice contour and bronze with a subtle dewy effect.
To create a vintage look at home you need these key items:
Fine brow pencil – Nyx brow pencils gives good precision £9
Red lip – My favourite Red Square by Nars
Bronzer- Mac Mineralise dark golden
Black painting liner & eyeliner brush – Bobbi Brown black Ink Bobbi Brown Gretna outlet.
Skin – I used Born This Way oil-free Foundation which photographs perfectly.
Of course, a good concealer is essential and I used Bobbi Brown full coverage.
It's important to try your best to keep the look clean and simple. If a red lip is too much for you maybe you can opt for a well defined nude.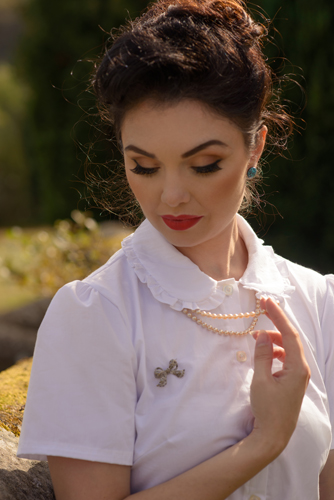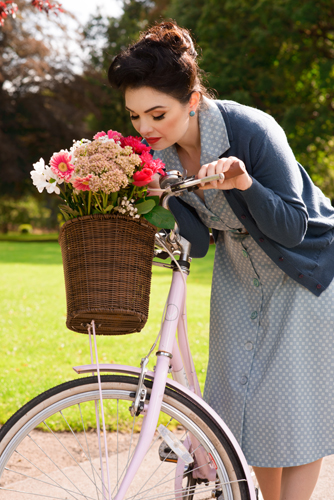 I have uploaded a video on my Instagram recreating the same look with various hairstyles and incorporated a stylish headband that Emma and Leanne sell.  Check it out and you'll also find I have included a discount code in my video for customers to receive 10% off items.
Photographers –  Tommy Martin & Katie Jay
Share It: