VE Day in Workington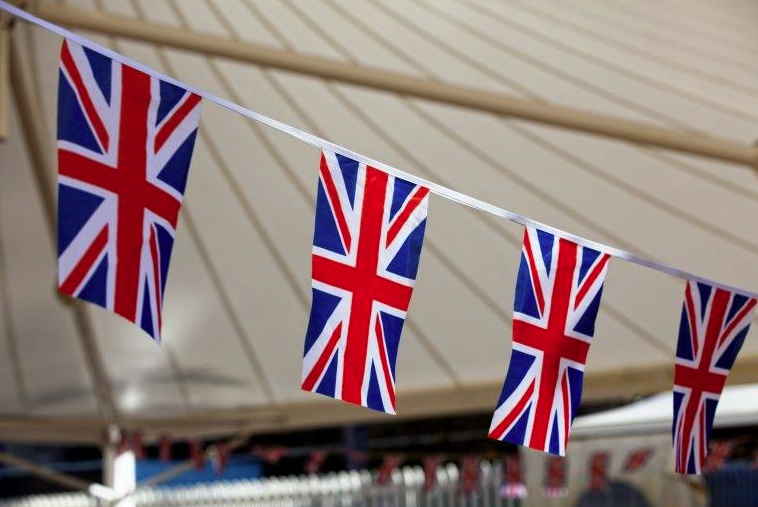 Residents of Workington are being encouraged to participate in the national VE Day community celebrations from the safety of their own homes.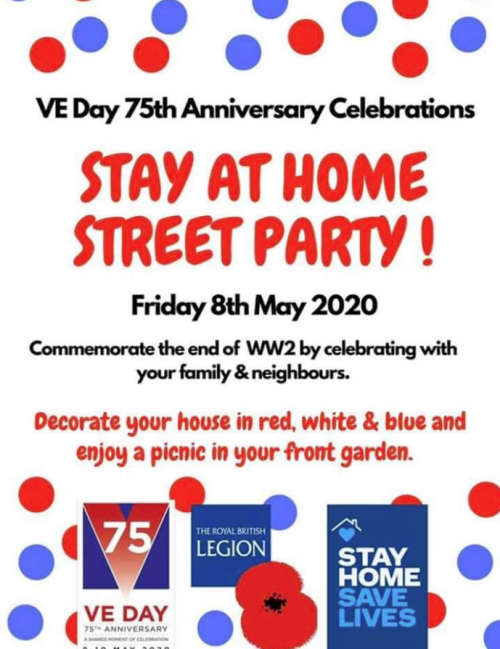 Friday 8 th May marks the 75 th anniversary of the end of war in Europe and is an opportunity to honour the sacrifices made by the WWII generation. Communities are being asked to take part in the following programme of activity whilst observing
social distancing guidance:
11am: 2 minutes of silence
11.15am: A livestream by the Royal British Legion available on their website:
www.britishlegion.org.uk/stories/ve-day-75-livestream
3pm: Nation's Toast to the Heroes of WWII.
9pm: Nationwide singalong of Dame Vera Lynn's 'We'll Meet Again'
Throughout the day: Enjoy a picnic in your front garden (social distancing
rules must be maintained).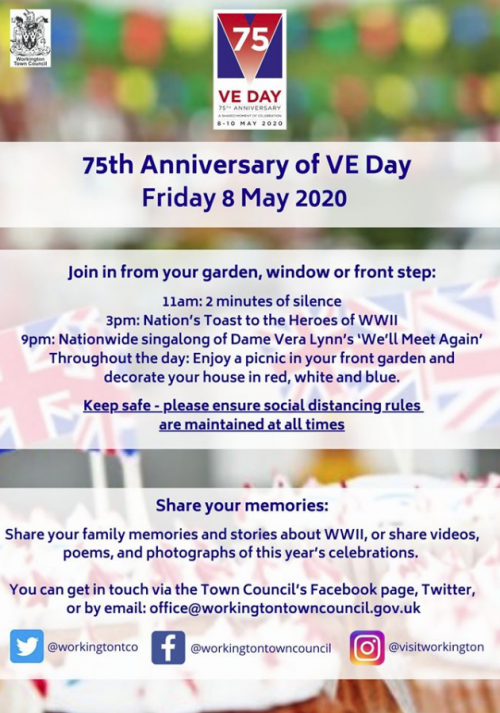 Workington Town Council has asked residents to share their family memories and  stories about WWII, or to share videos, poems, and photographs of this year's celebrations. Participants can get in touch via the Town Council's Facebook page, Twitter, or by email: [email protected]
The Mayor of Workington, Cllr Janet King, commented; "The anniversary of VE Day is an important occasion and even though we cannot
gather together, there are some great ways we can still safely connect as a community. We would love to hear your thoughts and memories about VE Day, and to see your plans for the day, so please contact us and share your experiences."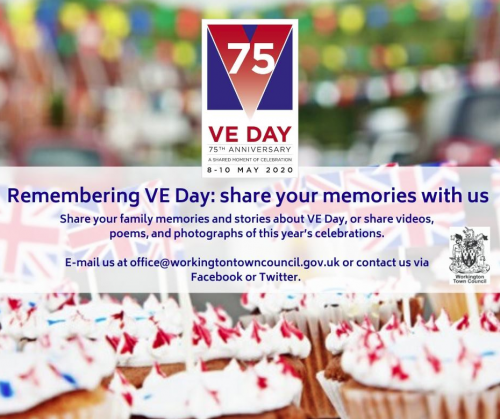 The Mayor of Workington also confirmed that the union flag at the Town Hall will be raised as a mark of respect. The flag-raising ceremony would normally be a public event, but on this occasion, it will be carried out privately to ensure social distancing
is maintained.  The Town Council confirmed it will continue with its plans to erect a statue in Vulcan Park in honour of the VE Day anniversary.
Share It: