Spanish Chicken & Chorizo
Bring your store cupboard essentials to life with Embellish with Relish Cook Book.   From hearty hotpots to aromatic curries, these are simple but satisfying meals packed full of flavour to make the most of the jars and bottles that are tucked away in the cupboard.
Spanish Chicken & Chorizo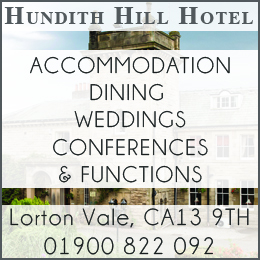 This is a great family dish packed with flavour and sunshine.
Preparation time: 25 minutes | Cooking time: 45-60 minutes | Serves: 4
Ingredients
 12 chicken thighs
4 tablespoons olive oil
4 cloves of garlic
2 teaspoons paprika
2 sprigs of rosemary
Salt and pepper
3 large sweet potatoes
140g sliced cooking chorizo
200g mini sweet peppers
2 quartered red onions
2 tablespoons Hawkshead Relish Chilli Jam
Juice of 2 oranges
100g pitted Kalamata olives
220g cherry tomatoes on the vine
60g mini pickled peppers
10g fresh basil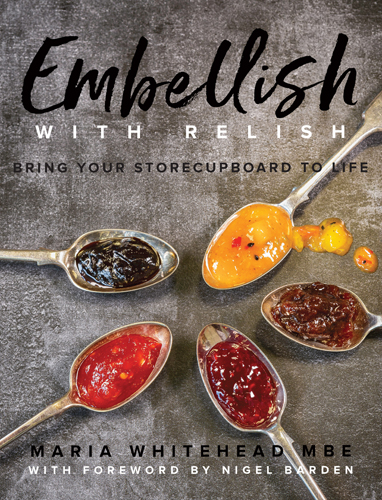 Method
Preheat the oven to 180°c.
Mix the chicken thighs with the oil, garlic, paprika, rosemary, salt and pepper then leave them to marinate for 10 to 15 minutes.
Peel and dice the sweet potatoes then add them to the chicken along with chorizo, peppers and red onion. Transfer the mixture to a large roasting tray with the chicken skin side up, and place into the preheated oven for
25 minutes.
Meanwhile, combine the Chilli Jam and orange juice. When the initial cooking time is up, pour this over the chicken and add the olives, cherry tomatoes and pickled peppers to the roasting tray. Return to the oven for another 15 to 20 minutes, allowing the chicken skin to crisp up. Finish with torn basil leaves scattered over the top, and serve with a fresh rocket salad.
Tip
Cook about 200g of rice until soft and fluffy, then once the chicken is cooked add to the dish and mix. You can leave out the sweet potato if you wish.
Embellish with Relish is available to buy in all good bookshops or online at www.mezepublishing.co.uk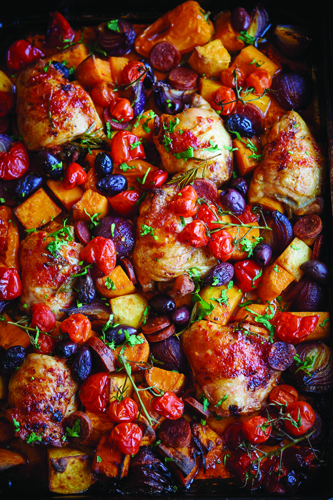 Share It: