Rare Bronze Age find is Coming Home to The Beacon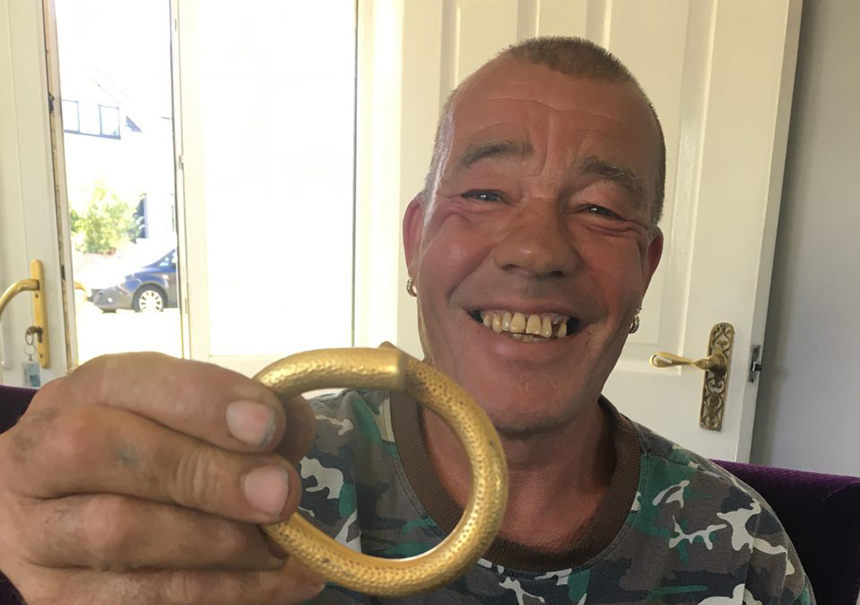 Rare Bronze Age find is Coming Home to The Beacon
A Bronze Age gold arm ring of regional significance and national interest will soon go on show at The Beacon Museum in Whitehaven.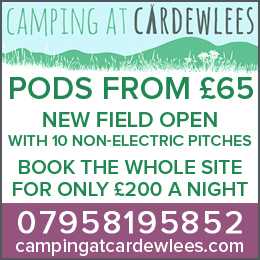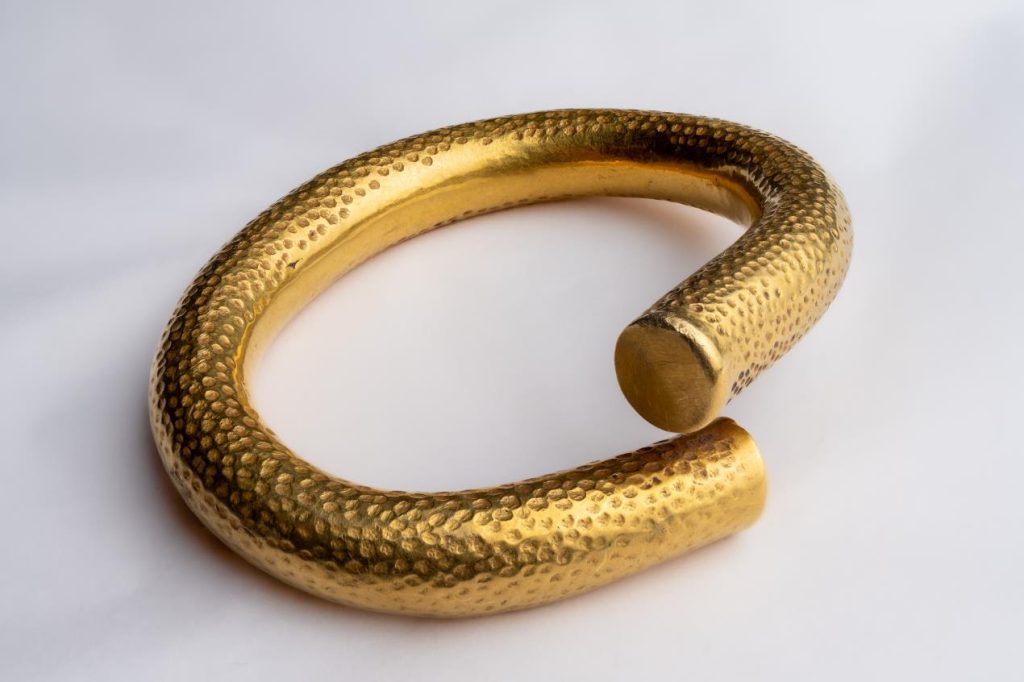 photo credit: Tom Kay
The artefact was discovered in 2019 in West Cumbria by a local Whitehaven detectorist, Billy Vaughan, and has been jointly acquired by The Beacon Museum and Tullie and purchased with support from Art Fund, Arts Council England/V&A Purchase Grant Fund, Cumberland Council and the Cumberland and Westmorland Antiquarian and Archaeological Society.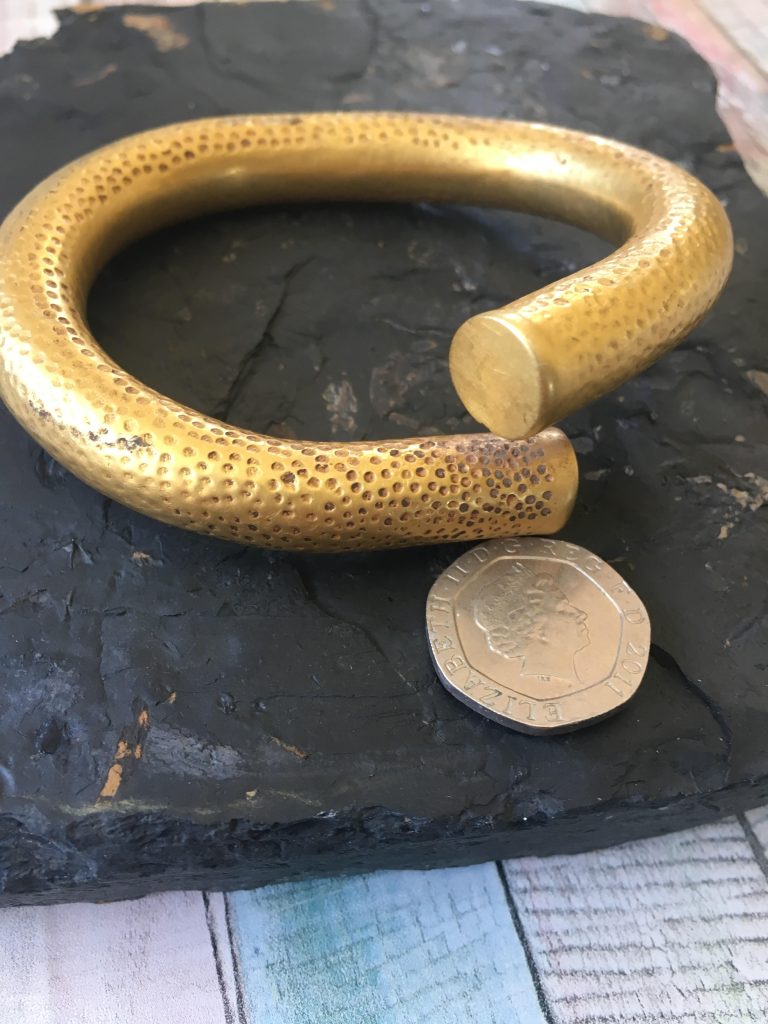 Although similar items have been found in other parts of the UK, this object is a first for West Cumbria and is thought to originate from 900 – 700 BC.
The acquisition of this stunning artefact is testament to the success of the Portable Antiquities Scheme and the Treasure process and of course the integrity of Billy who declared his extraordinary find, which has allowed this rare object the opportunity to be acquired by our local museums for public benefit.
The 22-carat, Bronze Age bracelet, weighs in at 310 grams – almost 11 ounces – and the find stunned Billy who had only been detecting for a little over six months when he found the item. 
Billy said
"I was happy finding buttons or the odd silver coin but this was unreal. I dug it up, put it in my bag and thought nowt of it.  I figured it was one of those clips mountain climbers use, I never believed it was gold, particularly because it was only 5 inches below the surface.  It was almost like someone placed it there.

I carried on and when I stopped for a coffee I had another look.  I called a fellow detectorist, Spud,  to help ID it and sent some pictures.  His response was immediate and was of a type that is sadly not suitable for publication but he indicated it was gold and most likely Bronze Age."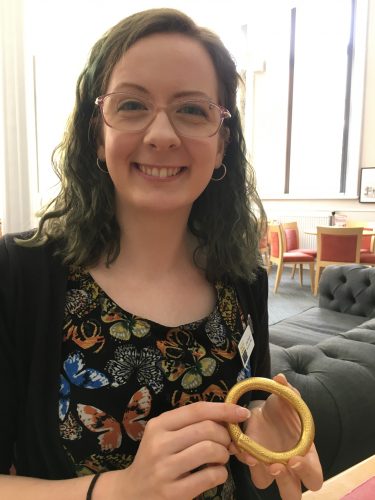 Finds Liaison Officer Lydia Proser who took receipt of the Arm Bracelet at Tullie House at the time said
"I personally haven't seen anything like this in my years and I have worked across Yorkshire, Lancashire and Cumbria.  At first, there didn't seem to be any parallel with the unique decorations and it presented a lot of questions. But experts have started looking into it and Neil Wilkins, who is the Curator of the Bronze Age artefacts at the British Museum, came across a similar arm ring of Irish origin.  So the latest thinking is it was brought over, or traded, in Ireland"
It's coming Home 
Between Saturday 18 November and June 2024, the item will take centre place within The Beacon Museum's Prehistoric and Bronze Age section located at the entrance to the museum's third floor gallery 'History of Copeland'.
Councillor Anne Quilter, Cumberland Council's Executive Member for Vibrant and Healthy Places, said:
"As a new council, we are already seeing the advantages of working together to support culture in Cumberland. The Beacon Museum and Tullie have worked in partnership to ensure this significant find, found in our area, stays here, and will go on show, on a rotational basis, in two of our museums.

"The Cumberland area is lucky to have a wide range of arts and cultural attractions.

"This joint acquisition provides more opportunities for our communities to see this amazing find and discover more about their local heritage."
The Beacon Museum's Customer and Visitor Experience Manager, Heather Holmes added:
"The find will significantly enhance The Beacon Museum's prehistoric and Bronze Age story of our area. The nature of the item, and its role as a showpiece object, will highlight the importance of the museum as a venue for sharing heritage with both the local community and wider tourist market.

"It will support the museum's existing prehistoric and bronze age collections as it will be the first item made of metal from the period to enter the collection. It's a must-see exhibit."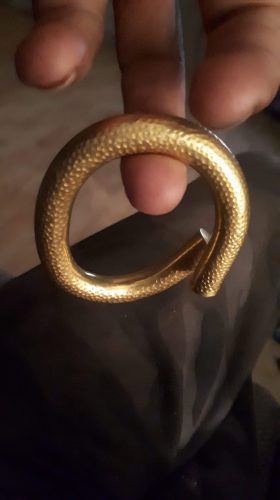 The exhibit will also be showcased at Tullie, Carlisle from July 2024.The item will then be on show on a rotational basis between the two museums.
Tulle's Head of Collections and Engagement, Anna Smalley said:
"Since the Portable Antiquities Scheme began recording archaeological finds in 1997, only eight other gold objects from the Bronze Age have been recorded in Cumbria. The majority of Bronze Age material recorded originates in the south of Cumbria, making this Northern example really exciting for the local region."
Prof Michael Lewis, Head of Portable Antiquities & Treasure, British Museum, said:
"It is wonderful news that The Beacon Museum, Whitehaven, has been able to acquire this important Late Bronze Age gold arm ring for local people to see and enjoy. The British Museum is proud of its role in managing the Portable Antiquities Scheme in England, through which this object was reported Treasure via the local Finds Liaison Officer."
Leanne Manfredi, Arts Council England/V&A Purchase Grant Fund said:
"The Arts Council England/V&A Purchase Grant Fund supports the purchase of a wide range of material for the permanent collections of non-nationally funded organisations in England and Wales. We are delighted that this Bronze Age gold arm ring of 'regional significance and of national interest' has been jointly acquired by The Beacon Museum and Tullie via the British Museum's Portable Antiquities Scheme. It will benefit audiences for years to come."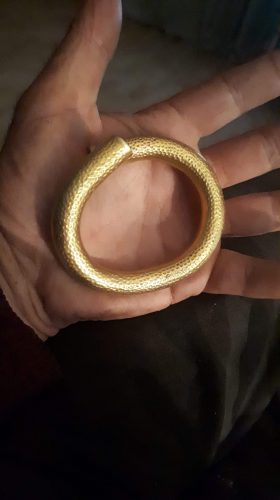 The Beacon Museum is open daily 10am – 4.30pm during school holidays. During term time (from 11 September 2023), it is open Tuesday – Saturday, 10am – 4.30pm and Sunday, 11am – 4pm. Closed Monday.
Last admission is 45 minutes prior to closing.
Every first Sunday of every month, they hold a 'quiet hour' for the first hour of opening (11am – 12pm).
You can find out more at the museum's website: https://thebeacon-whitehaven.co.uk/
From our point of view here at The Cumbria Guide, we would like to congratulate all parties involved, Billy of course for sharing his find and all who have worked tirelessly for the last four years in bringing this monumental item of treasure back home to Cumbria, where it belongs. I'm sure such an item will do wonders and add to our tourism offering and help drive footfall and increase our local economies. Class effort all round.    
---
To learn more about what's happening follow Cumbria Guide on our social media
---
Share It: