History Comes To Life with Carlisle History Tour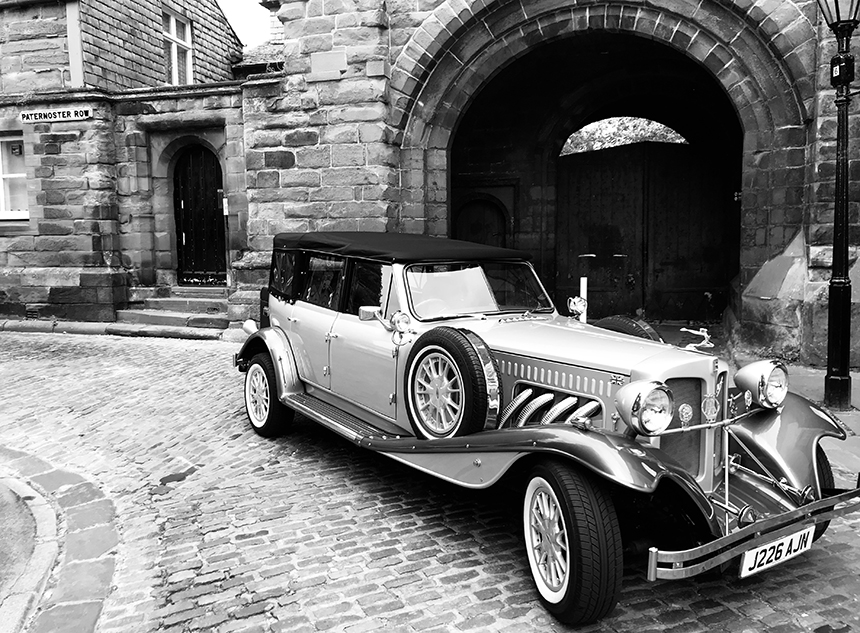 History Comes To Life with Carlisle History Tour
Taking a Carlisle History Tour is an experience in more ways than one.  And it starts when you take your seat in 'Clyde', the Beauford Tourer, which was designed and lovingly built to resemble a 1930s luxury vehicle.
The silver tourer certainly stood out from the gathered crowd as owners Stephen Dent and Christine Holliday waited on me to arrive for my tour. The normal meeting point is in front of the Crown and Mitre Hotel and the throng was busy snapping pictures of Clyde along with Christine and Stephen in their Peaky Blinders outfits.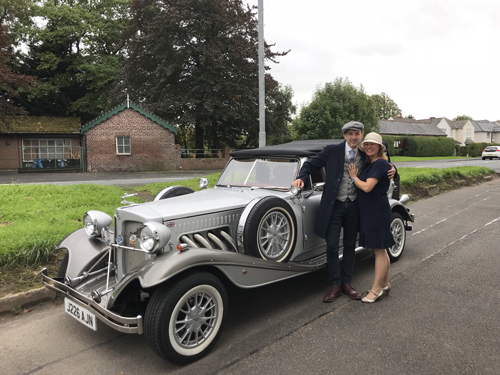 The bodywork work of Clyde is nothing short of spectacular and the interior is exceptional with the black mohair hood, magnolia dials, walnut dashboard, burgundy leather upholstery and blue Wilton carpets.
It's a distinctive vehicle and it certainly turns heads as it passes by but Stephen believes the Tours are unique in more ways than one:
"I think we are one of the few like this in the country.  The idea came when we were on holiday in Prague. They had something similar and we thought it was a great idea.  We originally felt we'd do it in a normal car but decided it would add something if we were dressed up and offered a real experience."
It certainly does.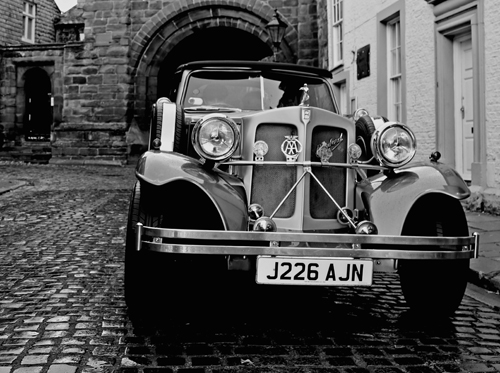 Christine has recently turned her attention to researching the history of Carlisle and enjoys sharing the stories of her home city while Stephen chauffeurs. With thirty-two years of experience at Dawson and Sanderson travel agents, he felt he had a good feel for what tourists wanted but he was surprised by his clients:
"We've had lots of tourists from America and Australia but I'd say most of our customers are local. People are looking to do something different, there's a lot they don't know about their city and we try to bring it to life."
Carlisle History Tours offer a range of packages that allow you to discover the area in style. The City Tour takes you through the historic cobbled streets and brings the ghost of the past back to life through storytelling.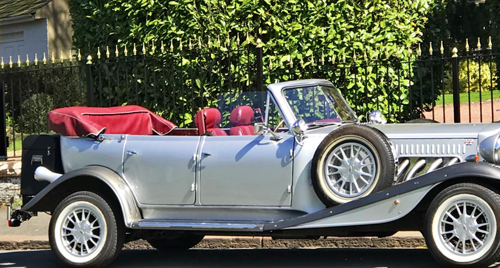 The Village Tour is for those interested in a relaxing drive out in a beautiful car with time to visit some stunning locations. The tour takes in spectacular countryside, quaint villages, beautiful old houses and, if you dare, you can walk along an 1830s viaduct 100 feet above the River Eden.
The Roman Tour lets you discover a bathhouse and the location of the largest fort on Hadrian's Wall while the Occasion Tour is bespoke and the only limit is the clients' imagination.
It offers a truly unique experience where you are treated like royalty as you are chauffeured from a location to a destination of your choice. Tailor a trip to your particular interests or treat a loved one to a birthday or anniversary surprise, create beautiful memories or reminisce on past ones.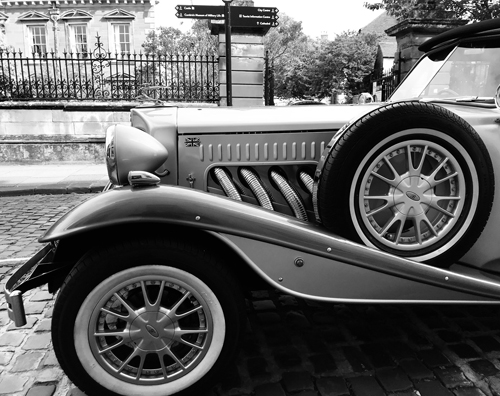 "The occasion tours are very popular," said Stephen. " With a free bottle of bubbly to celebrate, it's something special. The trip can be guided by the driver or if clients have places that hold special memories like birthplaces, childhood homes, schools, workplaces or wedding venues, we can tailor the tour to suit them."
Why not buy a voucher and create a special bit of history for a loved one?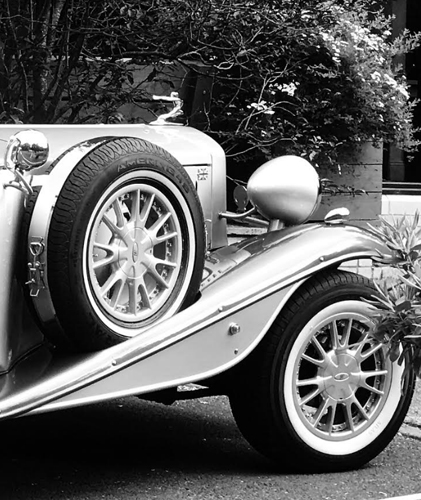 "It's great to be there when people celebrate special moments," said Stephen. "But what's interesting is how popular the Gruesome Tour is proving to be.  It's for people who like the blood and gore of the past, it goes back to see places and hear stories of public executions, historic murders and life in a Victorian lunatic asylum."
My tour was on a cold and wet October day but it was wonderfully cosy tucked into the back seat of Clyde. However, on a summer day with the top down I could not think of a better way to bring history back to life.
Visit www.carlislehistorytours.co.uk or call 07535 876864
Share It: