Roll Up Roll Up For Hardwicke Circus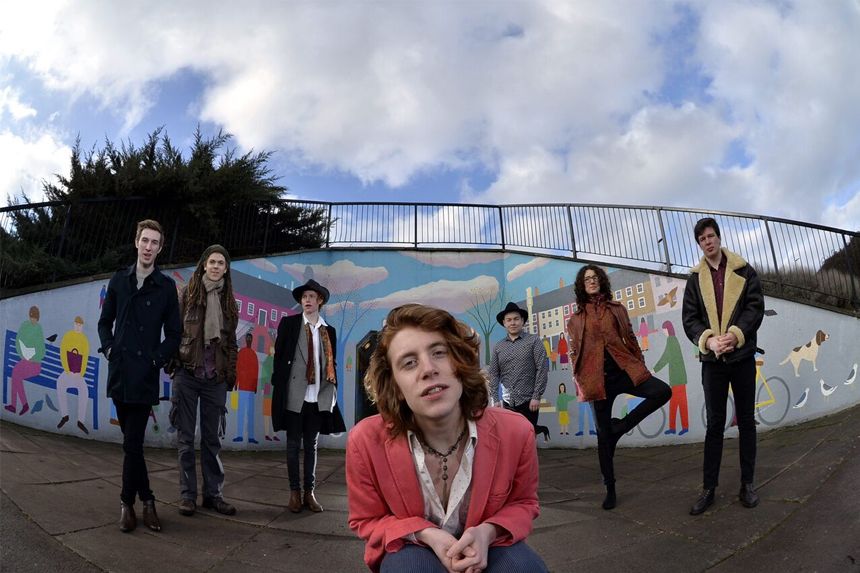 Image By Johnathon Baker
Roll Up Roll Up For Hardwicke Circus
Named after a roundabout in the city and fiercely proud of their roots, local Carlisle band Hardwicke Circus is hitting new heights.
The band is coming off the back of a nationwide tour and have smashed some of the country's hottest festivals including Reading, Leeds, the Holy Grail that is Glastonbury and even our very own Milecastle 66. The band is set to return to native Carlisle to perform a homecoming gig at The Old Fire Station on December 8.
Their music video to 'Why Are You Looking for Love?' is a showcase for all things Carlisle. The video contains all of the city's most famous landmarks as well as a few famous faces including the mayor of Carlisle Tim Scott, renowned broadcaster Melvyn Bragg and Carlisle United manager Keith Curle.
Niall Spence chats with Hardwicke Circus front man Jonny Foster about Simon Cowell, touring Europe and what it means to be that band from Carlisle.
Who are Hardwicke Circus?
We're a bunch of seven guys from Carlisle that gets together that loves writing songs and gigging to people.
How did you get together?
I've always played music since a very early age as have most of the guys in the band. Me and my brother Tom decided to start a band years ago and it's slowly evolved into what it is with the current line-up and the way we play today.
What's your sound what makes you unique?
Our sound is such a mix, we're very live. We take elements from everywhere; there's: blues, rock, soul, pop and we have elements like motown and country in there as well. It's such a diverse sound. You don't fully understand until you see us live.
What's coming up next, what's in the pipeline?
We're going over to Dublin to record in the same recording studio that Michael Jackson used then we've got a big tour coming up with Alabama 3 through November and December. We're playing at the O2 Academies and some really big venues. It's overwhelming, you dream of playing these venues when you're younger. I remember when I used to go to the O2 when I was younger and I'd be watching the band, thinking wow, it would be amazing to play there! It all came around so quickly it has been a surreal summer so we've not had too much time to take it all in. We'll probably prepare slightly more than for a small venue but we've got to go into it like it was a gig at a small function room. A gig is a gig regardless of the venue. We played Glastonbury in summer that was hard as it was on the world stage but it was fantastic. They're big venues but we'll be ready.
Where do you want to go over the next few years?
We'd love to be touring the country and Europe. We want to be filling venues and have a full fan base. The most important thing is to still be writing music with a good original sound and to be enjoying what we're doing. If we're still writing, gigging and enjoying ourselves then I'm happy.
Where do you get your inspiration from?
I think if you want to have any kind of originality you can't take too much from other bands and aspire to be them but that being said there are some bands you respect. There's a cool band out there at the moment called The Dawes. We listen to all kinds of stuff when we're on tour. There's a real mix with stuff like Tom Petty, Bon Iver and even stuff like Kanye on in the bus. If it comes on shuffle it's all good there's no kind of like people going, no that's lame. We try to find our influences in different ways, they come from everywhere: our thoughts, personally, socially and politically and what's happening in our lives, being in the band and being on tour. I think that's why it's really exciting creatively at the moment because everyone is getting involved and ideas are coming from everywhere.
What do you think of the modern music industry, It's littered with pop and dance acts. What's it like for a band like you?
It's a bit of a joke really. It's hard. The whole industry is set around having your 15 minutes of fame at the moment and being created by the Simon Cowell's of the world. People think you just go on a show now and get famous. No one sees the groundwork that goes in behind the scenes or what it means to be a band or be a singer. With the internet and social media the industry stops on your screen. The whole industry is geared up to releasing things at specific times. It doesn't help live bands like us because everyone already has instant access. Hopefully we can beat that and be the band from Carlisle.
The video, Why You Looking for Love? was very Carlisle orientated, where did that come from?
Yeah, there's a line in that song that goes "Don't let the weather do you down", that's a very Cumbrian thing. It was our first video we did and we really wanted to cement ourselves as the band from Carlisle. The obvious way to do this was to make a video centred around Carlisle and all the local businesses and celebrities and the weird and wonderful people there. It was cool to do, there's a lot of culture and arts in Carlisle. The nightlife scene with bands seems to have missed the area it goes from London, North to Manchester then up to Glasgow and it bypasses Carlisle so it was showing that you can have a good time in Carlisle and that Carlisle has something to show.