Food Carlisle Wins National Good Food Award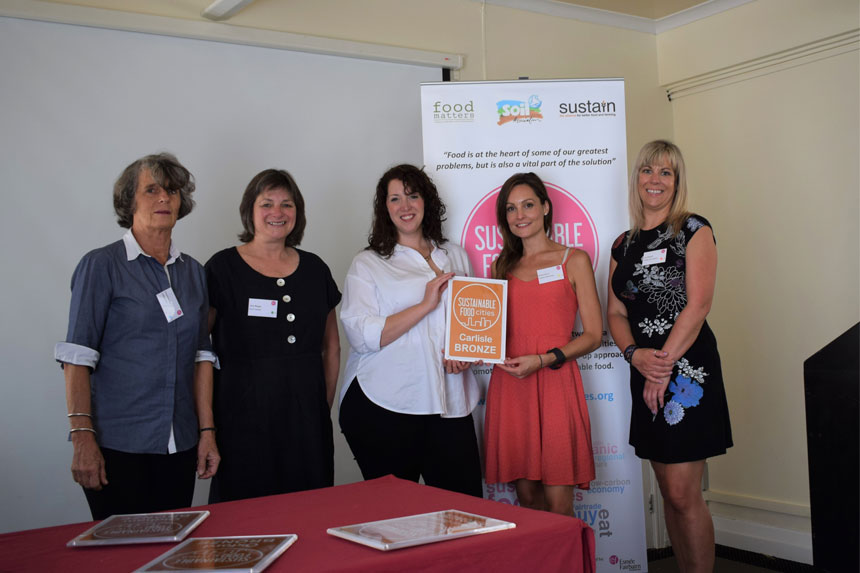 Carlisle has become one of just a handful of cities to win a prestigious Sustainable Food Cities award.
The award was presented at the Annual National Sustainable Food Cities conference in Cardiff on Tuesday 26 June.
The event was attended by representatives from more than 60 UK cities and recognises Food Carlisle's work to promote healthy, sustainable and local food and to tackle some of today's greatest social challenges, from food poverty and diet-related ill-health to the disappearance of family farms and the loss of independent food retailers.
Food Carlisle was established in 2013. Its mission is to co-ordinate and support the development of Carlisle as a Sustainable Food City, promoting and encouraging "Good local food for all" within the Carlisle District, addressing through food: Health and wellbeing, local economic prosperity, environmental sustainability, resilient communities, and fairness throughout the good chain.
Food Carlisle's vision for Carlisle is that it will become the most sustainable "Food City" in the region and a beacon of good practice, nationally inspiring others; particularly smaller cities, towns and countries, to replicate our work.
It is a partnership of different organisation working together to achieve the mission and vision. Partners include Carlisle City Council, Cumbria County Council, Carlisle College, Brampton Food Network, Sustainable Carlisle, Local Food businesses, Phunkyfoods and Carlisle Food Bank.
Jane Maggs (Chair of Food Carlisle) said:
"It's a huge achievement for Food Carlisle to attain this award, it's a great vindication of Carlisle's commitment to the agenda in challenging times. Thanks go to exceptional people, partners, communities and projects across the district, who are doing truly exceptional things in partnership.
"However, this is just the start of our journey; the national award ceremony and other exceptional cities will inspire us to further grow the agenda and keep moving forward."
For updates on Food Carlisle, visit https://www.carlislepartnership.carlisle.city/ or follow them @FoodCarlisle on Twitter.
Share It: