Try Something Different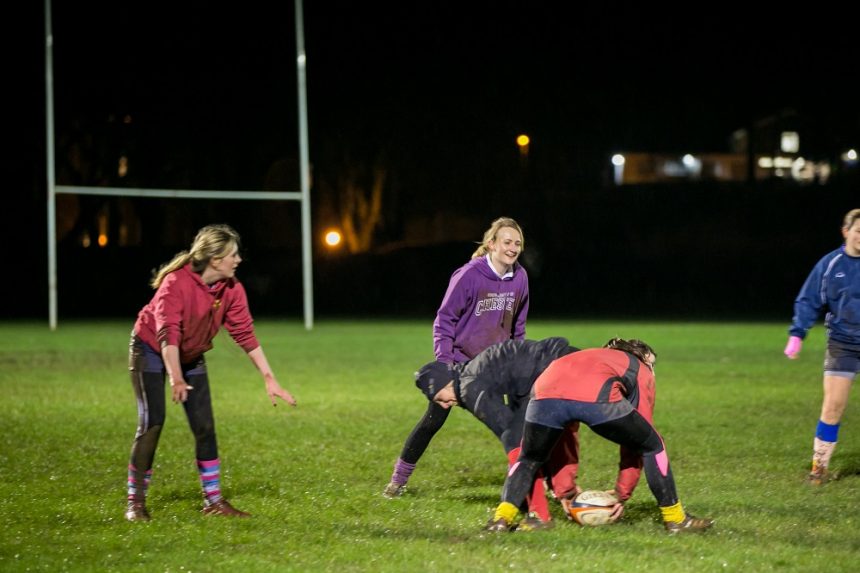 The success of England's Women's team at the Rugby World cup in 2014 has helped inspire over 18,000 women and girls nationwide to lace up their boots to play the game every week. Ali Hipkin gave training a try with Carlisle Ladies Rugby Union team, The Carlisle Cougars, to see what it's all about.
Coming from a rugby playing family it's only natural that I love a good game of rugby. I have no allegiances to League or Union and I go to as many of Whitehaven RL home games as I can.
Despite my love of the game I have never been involved myself. The mud, scuffed knees and frizzy hair are all contributors to this. Yet in January I found myself exposed to all when I decided to give it a go.
The Cougars were forced to find alternative grounds after their pitch was flooded last month so I joined the team for their weekly training session at Creighton Rugby Club.
After a quick warm up we started a game of touch rugby. I know the basic rules of rugby but I was finding it difficult to apply them on such a small scale.
I've never been the kind of person that excels at sports so I stick to the gym but this was something completely different and much more fun than the cross trainer. To my surprise I found I was enjoying myself and I wasn't quite as bad as I thought.
As the session progressed I felt like I was making progress, the Cougars were incredibly welcoming and so helpful that I wasn't afraid of doing something wrong or asking them to explain something.
We were training on the same night as Creighton's men's first team, half way through our session someone shouted, "The boys are coming over, I think they want another game of touch". An anxiety which remains from mixed PE lessons was pricked and I started to panic at the idea of playing against the men's team.
Despite my original reservations the game proved a great way to learn and the competitive element kept it fun. There was definitely something satisfying about hearing the sigh of frustration from my opponents when I stopped them from getting past me.
I was interested to know how the men's team felt about playing against the women. Daniel Dudley Coach of Creighton first team, said: "Women's rugby is getting bigger and better in the county. The standard is getting better every year.
"The lads are always keen to have a game of touch with the girls it's just a bit of fun."
Carlisle has had a ladies team for over 20 years and after just one training session I can definitely see the appeal of the sport it's a great way to meet new people, feel like part of a team, have fun and keep fit.
Sam Meakin, Captain of Carlisle Ladie's has been playing Rugby since she was at university, she said:
"I think the Rugby World Cup and the Women's World Cup have helped make rugby more popular. It's for different ages, sizes and abilities; it's something different, it's not something you always get a chance to play."
The community spirit within the rugby world has been made clear by the donations Carlisle Ladies have received after losing their ground. Not only have Creighton given them use of the pitch but teams from Manchester and Northwich have donated kits after Carlisle's were damaged in the floods.
So is the rugby world about to be dominated by women? Sam said: "I think the women's game will always be a bit behind the men's but we play a different kind of game to them, we play more of a running game and try and make ground up that way."
Despite the (very) dirty washing, the frizzy hair and cold toes I relished in my first experience on the pitch and proudly told everyone 'I went rugby training last night'.
So if your New Year's Resolution to keep fit is wavering ditch the gym and try your hand at rugby.
For more information about the Cougars call Sam Meakin on 07810 331800.
Share It: